What Are Push Notifications And Why You Should Use Them In 2022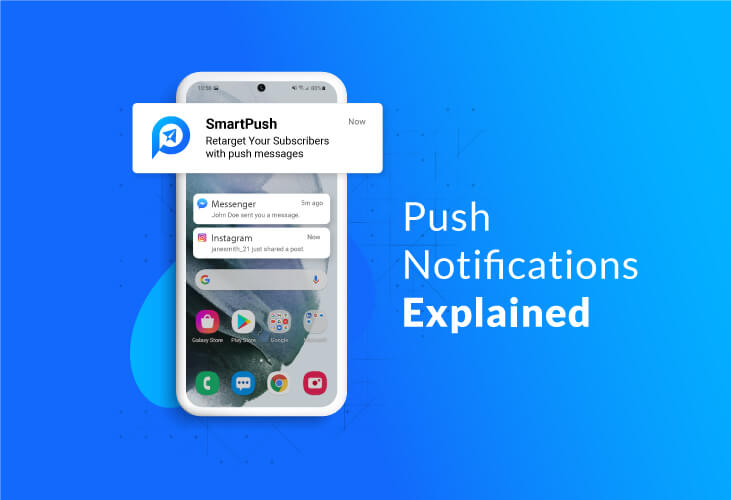 Table of Contents
Push Technology Terminology

The History of Push Notifications

FAQ

Are push notifications text messages?

Are push notifications reliable?

Why are push notifications important?

How Do Push Notifications Work?

The Anatomy Behind Push Notification Technology

Which Push Notification Service to Choose?

Push Notifications Security

Opt-In and Opt-Out of Push Notifications

Limitations of Web Push Notifications

FAQ

What does enable notifications mean?

How to enable push notifications?

How to stop/turn off push notifications?

Push Notification Types and Examples

Browser Push Notifications

Desktop Push Notifications

Mobile Push Notifications

Common Use Cases of Push Notifications

Customer Lifecycle Push Notifications 

Time-sensitive Push Notifications 

Reminder Push Notifications 

Location-Based Push Notifications

Promotional Push Notifications

Push Notification Examples

FAQ

Do all devices support web push notifications?

Are push notifications guaranteed to be delivered?

Are app and web push notifications different?

Push Notification Marketing

What Is Push Notification Marketing?

What Makes a Good Web Push Marketing Campaign?

Mistakes to Avoid When Using Push Messaging

FAQ

How many push notifications per day should I send?

What's the optimal structure of a push message?

How Do Push Notifications Compare with Other Types of Customer Messaging

Advantages of Including Push Notification In Your Marketing Strategy

Easy Customer Retention

One-Click Subscription

No Spam, No Promotion Folders, No Adblocks

Direct Message Display

Better User Experience 

Statistics On Push Notifications

Bonus: Power Words to Use in Your Push Notifications
Show more
Push notifications are short messages that pop on a user's device and call for action. The message is automatically sent by an application or a website through the browser or built-in system.
While that was a short answer to what the meaning of push notifications is, there is a lot more to discover about this effective and, probably, underestimated marketing channel.
In the age of privacy being one of the major customer concerns, push messaging grows in popularity. Why? Because customers themselves agree to receive your notifications on their screen while they don't have to share their email addresses or phone numbers. Good push service providers are also GDPR compliant which ensures another level of security. That's a major advantage over other means of customer messaging. We'll speak about them more in this article. For now, let's start from the basics.
Push Technology Terminology
To discover what's more in push notification technology and what value it holds for your marketing efforts, we should first discuss push notification terminology.
Notification API is the interface that you can use to configure and send notifications that are displayed to subscribers.
Push API is the interface used to subscribe your app or website to a push service and receive messages.
Web Push Notifications, also called browser notifications are sent by a website or web application to subscribers.
Push Service is the system used for routing push messages from a server to a client.
Web Push Protocol is how an application server or user agent interacts with a push service.
Carousel Push Notifications do the job of multiple messages at once. They enable to display of multiple elements, like products, in a single, scrollable notification,
Rich Push Notifications support rich media like images, videos, audio and interactive elements.
The History of Push Notifications
Push notification services haven't been there as long as other traditional channels, take email. But, the use of that very email was a big deal without the push technology. People had to check for new emails every now and then as there was no way to get notified of their arrival.
The concept of push technology was first introduced by Apple. While BlackBerry had been sending email notifications, Apple was first to make it a separate channel to communicate with users. Let's see the timetable of the history of push notifications.
2008 – Matias Duarte, the Design Director at "Danger" and his design team developed push notifications
2009 – Apple introduces ASPNS (Apple Push Notification Service), It's the big step forward that becomes the base of push notification services.
2010 – Google launches C2DM (Cloud-to-Device Messaging). Push becomes available to Android users
2013 – Android brings push notifications to a whole new level by adding visual media and action buttons. Google brings its GCM (Google Cloud Messaging) into use, which introduces push notifications to browsers
2014 – Time comes for iOS users to make use of the visual and button features
2015 – Push is not a mobile thing now. It becomes available on the desktop version of Chrome
2016 – Both iOS and Android support carousel push with allowing for the display of multiple images. Apple takes a step further and launches rich push with even more media possibilities. Google Push Services was renamed from GCM to Firebase Cloud Messaging and simplified the setup process for the third parties to implement and use for their marketing needs.
Push notifications have changed the way we interact with applications and websites forever. Since the very start, they have developed from a simple tool used to send short SMS-like notifications to a whole marketing channel.
FAQ
Are push notifications text messages?
Not only. Starting from a simple text format, they are now a customer communication channel used to send notifications and keep users engaged.
Are push notifications reliable?
Yes, they are reliable for both the website or application that uses the technology and the customers that interact with the messages. While they do gather information about the subscribers, good push notification services never use the data for any reason other than helping their users to make their messages more personalized and provide a better experience to the subscribers.
They are also end-to-end encrypted with some push service providers that have developed their own backend. No third parties, see the messages companies send to their subscribers. Services that work on Firebase may not offer the same level of security. Your messages and other information may be under oversight.
Why are push notifications important?
The push technology is important in terms of user experience and marketing. Both the subscribers and the message senders benefit from this channel. While subscribers don't have to open the desired application or website to find up-to-date information, the parties that send the messages keep their users engaged and make customer retention much easier and more affordable.
How Do Push Notifications Work?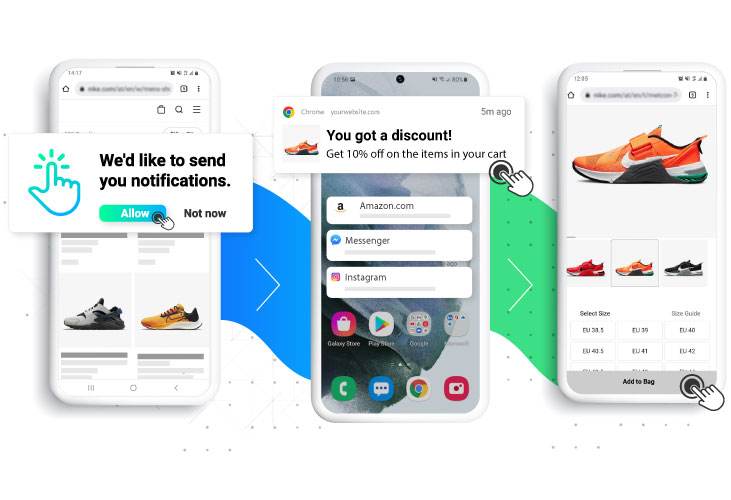 Push notifications, being a highly-targeted customer messaging channel, attract more and more marketers. Starting as a user experience improvement effort, it's now a growing marketing channel. So, how do push notifications work?
First of all, when a user visits a website they are asked for permission to receive push notifications. This is important in terms of security and trustworthiness from the consumer point of view. They give consent to receive periodic messages from your website. This is also the main reason for push notifications' high CTR (Click Through Rate).
Once the user agrees to receive notifications, they become your subscribers. From now on you can send them messages as often as you want (or your service allows) unless they unsubscribe or you remove their IP from the list.
The notification is sent from your server to a web push notification service, which sends the message to the subscriber.
When the user opens their browser (NOTE: they don't have to open your website) the message is displayed on their screen.
The Anatomy Behind Push Notification Technology
Let's dive into pull technology first for better understanding. When a user visits a website, they type the needed keyword in the browser they use and then click on the link in SERP (Search Engine Result Page). The pull system works here where the user actually asks a browser to pull the website information for them. Push technology is the opposite.
With push, you don't have to wait for the user to ask for or "pull" the information available on your website. You actually "push" the message you want to the subscribers.
Which Push Notification Service to Choose?
When looking for a service to send push notifications to your users, you have quite a few choices. However, you should decide whether you want to use the service each browser provides or third-party companies.
The downside of browser services is that you may not be able to send notifications to your users on other browsers. On the other hand, good push notification service providers support the majority of browsers and you won't have to set up a separate service for each browser.
Push Notifications Security
The most discussed aspect of push notifications, probably, is their security. First things first, the messages are end-to-end encrypted,in case you choose a service provider that offers the feature, so no third parties are able to read your messages. The reason that push is sometimes misinterpreted as spam is that a few organizations may have misused this channel.
Push notifications are a completely safe method of customer communication. They don't harm either your website or your customers. Of course, you should be careful when choosing a service provider to make sure they don't sell the customer data they extract for you.
Push doesn't harm SEO, yet, another misinterpretation among marketers. They don't slow down the loading speed of the page. On the contrary, the users who click are counted as returning by Google and other search engines which is indeed a positive alert.
Opt-In and Opt-Out of Push Notifications
The opt-in of push notifications is the on-website messaging that helps users subscribe. In other words, it's the pop-up window that asks the readers to send them messages. The opt-in rate depends on many factors. Here are a few tips to increase it and get more subscribers.
Test and find the best timing to ask for an allowance to display notifications
Make sure it highlights the benefits they'll get from your messages in the short text you're allowed to display
Track your opt-in rate, test, and improve it all the time
Once your visitors click on that allow button, your responsibility is not to make them opt out. Here are the tips to decrease the opt-out rate
Make sure to use segmentation and personalization that will help you display relevant messages your subscribers will benefit from
Don't send too many messages else your subscribers will get tired and very likely unsubscribe
Don't send too few messages either as you'll risk losing the interest of users and sounding unfamiliar which will, again, make them unsubscribe
Choose the right date and time to display the messages to as many subscribers as possible and not irritate them with night-time notifications
Limitations of Web Push Notifications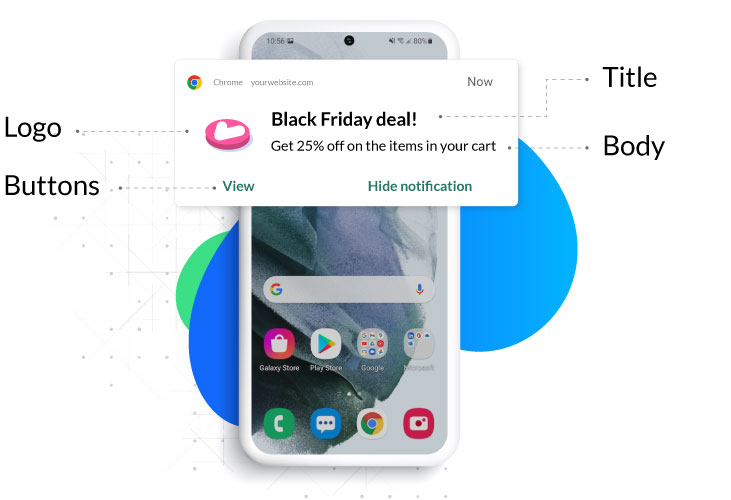 Web push, as any other means of messaging, has its limitations. First and foremost you should be aware not to cross the character count limits else you'll risk your message being cut off. Different browsers have different limitations.
For the title, you'll be on the safe side if you keep it under 30 characters, though Chrome displays up to 50 characters on desktop devices.
The body limitations vary from 30 (Firefox) characters to 120 (Chrome on desktop). Make sure to analyze and find out the devices and browsers your subscribers use and customize the character length accordingly.
While app push supports rich media, web push notifications can include only images as of now. Plus, you can use emojis to make your message more visually appealing and evoke the right feelings toward your message.
FAQ
What does enable notifications mean?
Website: When you enable push notifications, it means that you, as a website or app owner, will be able to gather a subscriber list and send them push messages.
Subscriber: When a browser user that visits your web page enables or allows push notifications, that means that they'll be added to your subscriber list and receive notifications even if your website isn't loaded.
How to enable push notifications?
Website: You need to use a web push notification service and integrate it into your website. Each service has its own means of integration. Some are as easy as adding a small code without developer help, others are more complicated.
Subscriber: Customers need to allow push notifications with the pop-up displayed when they visit a website.
How to stop/turn off push notifications?
Website: If you want to stop sending push notifications, you need to contact the service provider and stop using their services.
Subscriber: If a user wants to stop receiving notifications from a website or app, they need to visit their browser settings and turn them off either for a separate sender or all of them.
Push Notification Types and Examples
There are two main types of push notifications. The first one is sent through a browser from a website. The second one is sent from the apps. Here we're going to discuss the first one: browser push notifications. 
Browser Push Notifications
63.8% of Internet users browse through Google Chrome. This is an impressive number and it's followed by Safari, Edge, Firefox, and other smaller players. With this said, we want to share how web push notifications work on different devices. All of the major browsers support or even have their own push notification services. Here are the browser versions that support web push on mobile and desktop devices.
Chrome 42 and higher versions support web push both on desktop and Android-powered devices

Safari 7.1 and higher versions support push on MacOs desktop devices, while iOS doesn't allow web push notifications for now.

Firefox 44 and higher versions allow the display of push messages on desktop devices and Firefox 48+  versions on Android devices
Desktop Push Notifications
When customers use their desktops to visit your website or web applications, they see a pop-up asking for permission to send notifications. It depends on the operating system of where and how the pop-up will appear. 
When a user agrees to receive messages, the service adds them to the subscriber list. From then on, they start receiving messages whenever they open the browser, even if the website is not loaded. The message is displayed in the right corner either at the top or at the bottom of the screen, depending on the device and OS.
Mobile Push Notifications
First of all, mobile app push notifications are not the same as web pushes. Here, like on desktop devices, the message is sent through the browser.
People are more used to receiving push notifications on their mobile devices. An average American, for example, receives 46 push messages per day! While you may think that it's hard to stand out in the competition, mobile push notifications have their benefits. People are more used to seeing notifications on their phone screens so they'll click on them easier than on a desktop device. There is more informality and familiarity. Use this to your advantage!
While on iOS powered phones the notifications are turned off by default, they are turned on on Android devices when it comes to messages from applications.
Common Use Cases of Push Notifications
The features and benefits push technology gives makes it an appealing means of customer messaging. Marketers across all industries, from news to eCommerce, use this means of direct communication for different purposes. See the below examples and get inspired for your own push campaigns.
Customer Lifecycle Push Notifications
It's important to constantly update your users about necessary and relevant information that supports them at each phase of the cycle. These could be welcome messages, purchase and payment updates, notifications about changes made on the website, messages notifying users to keep their profile information up to date, thank you notes, etc. Such campaigns will help provide a personalized customer experience.
Time-sensitive Push Notifications
Push notifications are a great way to grab users' attention with offers that are available for a limited period. Sending push messages that create a sense of urgency prompts customers to act quickly and respond to messages immediately. For example, if you're offering a product in limited stock, a one-time-only deal that ends today, or limited-period specials, you may use push messages to create strong engagement and increase conversions.
Reminder Push Notifications
Reminder notifications push notifications add a lot of value for both you and your users. Let's say a user added an item to your store's cart and forgot to checkout, or a user was in the middle of taking some action but did not complete it. You can send a reminder to re-engage with users and guide them back to make a purchase or complete an action. This type of push notification is perfect to demonstrate value by reminding users about important things that matter to them, and they care about; otherwise, your message will be annoying. So make sure to acquire sufficient customer data to target your push notifications effectively.
Location-Based Push Notifications
You can use location-specific campaigns to notify users about special offers based on their current location. If you have an event, a last-minute deal, or a flash sale going on nearby that you think the user might be interested in, let them know by sending relevant notifications. Also, make sure to personalize your messages about an offer based on the user's behavior and interests.
Promotional Push Notifications
Do you have one-day-only sales, seasonal promotions, or holiday deals? Let your customers know about your specials immediately with promotional push notifications. Put your new arrivals right on the screen of potential buyers and tempt them with eye-catching visuals. Use strong words and call-to-action phrases to entice users to engage with your brand and convert them into customers.
Push Notification Examples
So, what messages exactly should you send for your campaigns? Here are a few examples to get inspired for and start your own campaign now.
Send special offers to one or another segment in your subscriber base and make it sound like it's for them only. What feels better than a special sale offer? Subscribers will be sure not to miss the opportunity. 
You do have a product, service, discount or anything else related to major holidays, don't you? Even if you don't, congratulating with a push message will create good feelings towards your organization. Why not use the opportunity? Include a related emoji, and your message will surely grab attention and drive action.
Through analyzing your subscribers with the data the push notification service provides, you can understand what kind of message is useful to a certain category of users. Information is much more valuable than a 50% discount on a $15 product. If you own such information, have a blog or news piece about it, make sure to notify your users. As long as they read and are satisfied, they'll make sure to click on the notifications receiver from you.
FAQ
Do all devices support web push notifications?
All desktop devices, including mac, support push technology. What comes to mobile, iOS doesn't allow website push notifications to be displayed on iPhone and other iOS powered devices. There is no news if Apple will add the feature in the near future. All Android devices do support the technology.
Are push notifications guaranteed to be delivered?
Deliverability is one of the main issues of all push notifications users. While you pay for each member of your huge subscriber list, not all of the messages actually get delivered. We, at SmartPush, found a customer-centric solution, making push notification usage even more affordable and effective. With our innovative pricing system, you'll pay for each delivered message only. Make the most out of your investment in push notifications. 
Are app and web push notifications different?
Yes, app push notifications appear on the user's mobile screen whenever it has a connection, regardless the app is open or closed. Think about Facebook and Instagram push notifications mobile users get whenever the mobile gets connected to an Internet source.
On the other hand, web push notifications are sent by websites or web applications. The users see the message as soon as they use the device, regardless if your website and event the browser is loaded or not.
Push Notification Marketing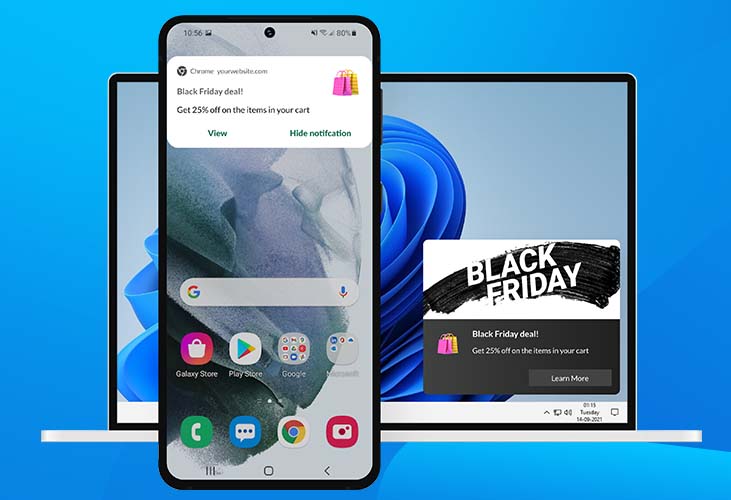 By now, it's clear that push is not only a means to send short messages, it's a marketing channel you should absolutely integrate into your overall strategy. Here we have a few questions that may arise in your mind answered to help you kick start retaining your customers and increasing engagement.
What Is Push Notification Marketing?
So, what exactly is push technology in terms of marketing? Push notification marketing is the practice of using push technology to send highly personalized advertising messages right to the screen of the customers' preferred devices. 
Analyzing the subscriber base and campaign results and improving the messages, visuals, CTA (Call-to-Action) and timing, marketers can reach high ROI (Return on Investment), much higher than many other marketing channels. We'll speak more on the benefits of push notification services over other means of customer messaging in another section.
What Makes a Good Web Push Marketing Campaign?
Push notifications are one of the most effective and handy tools to engage with customers and to make the most of them, you need to analyze the key metrics to assess your campaign performance. Here are the indicators that will tell you how successful your push campaign has been.
The opt-in rate is the most important factor to ensure the effectiveness of your push notification metric. So make sure to optimize your opt-in processes in a way that they are customized to the needs and preferences of each user.
Analyzing the click rate helps determine which types of notifications work best according to their style, visual appearance, sent time, frequency, etc. and which ones get more responses. The CTR metric will help get deeper into subscribers' preferences and develop more relevant campaigns that make people click.
This metric is helpful only for the companies that send promotional content for monetary objectives. When a user clicks on your push notification, they are redirected to your landing page, so make sure that it is relevant and contains all the information to lead conversion.
Mistakes to Avoid When Using Push Messaging
To help you get even better results, we have listed the most common mistakes marketers make with push notifications. Take a look and make this channel a valuable addition to your marketing strategy.
Don't risk being that annoying website that sends tens of messages to your customers per day. Find out how many messages are the optimal amount for your subscribers. Make sure your message contains real value for subscribers. Don't send messages just for sending.
Don't overlook segmentation
Good push notification services will provide you with multiple-level segmentation tools. You should be able to send messages at the right time, with the right message, and, of course, in the right language. Each campaign may require different types of segments to be created so make sure to dedicate enough time and effort to this.
FAQ
How many push notifications per day should I send?
The amount of messages you should send daily depends on your website. For example, a news website might send 3-4 messages per day if they have breaking news and not be irritating at all. After all, getting news is what people expect when they subscribe to notifications. An eCommerce website, on the other hand, may send only 1-2 notifications per week, whenever they have new arrivals or special offers or need to remind about abandoned cards. Facebook may send tens of messages each day, and people will actually click on them.
The bottom line, there is no certain limit to how many push notifications you should send daily or weekly. Make sure they hold a real value for your customers and test to find the perfect match.
What's the optimal structure of a push message?
Push notifications typically include the following elements that determine their effectiveness:
title, message, an icon, and URL. You can also add emojis and call-to-action buttons to evoke the right emotions and engage users more effectively.
How Do Push Notifications Compare with Other Types of Customer Messaging
Push messages are not the only type of customer messaging. In fact, there are a bunch of them. Email is probably one of the most used means and the list includes SMS, social media messengers, live chat and more. 
In the ideal marketing strategy, you should combine and use them for different purposes.
Advantages of Including Push Notification In Your Marketing Strategy
While we can't claim that push technology can replace all other means of communication with your clients, it does have advantages that outweigh other types of customer messaging.
Easy Customer Retention
According to different studies on customer retention costs, gaining new customers is anywhere between 5 to 25 times more expensive than keeping the ones you already have. Push notifications are the perfect choice for this purpose. First, you have got their approval to send messages, second, they don't need to open a certain application or website, the message appears right on their screen. On top of this, you can segment your subscribers and send highly personalized notifications.
One-Click Subscription
People tend to get more and more privacy-conscious these days. It's not an easy choice for them to trust their email addresses or phone numbers. With push notifications, you won't have to convince them to fill in personal information. Your website users are only one click away from being on your subscribers' list.
No Spam, No Promotion Folders, No Adblocks
Are you tired of your emails sitting in the spam or promotion folders and never getting read? Push has no such issues. Your messages are directly displayed to the visitors whenever they use their devices. 
Push can't be blocked by adblocks as well. Your messages will reach your subscribers. And even if they don't, you don't have to pay for them with our pricing system. 
Direct Message Display
Push notifications appear in the notifications drawer and are more visible than paid ads or emails.
Better User Experience
Have you ever wanted to unsubscribe from an email and couldn't find the tiny hyperlink? Users will have a better experience with an ability to unsubscribe right from the message. While unsubscribing is not the action you want your users to take, you still do want to provide a better experience to your customers, even if they're in progress of leaving your user list.
Statistics On Push Notifications
Here are a few facts and stats you should know about push notifications
Nearly

28,400 websites with over 1 million traffic

use push notifications. Do you think that's a lot of competition? The current number of websites is over

1.9 billion

and the number grows literally every second. Be the first from your competitors to use this innovative and effective marketing channel.

eCommerce websites take the lion share of push notifications with over 20% from overall sent, followed by media and news publishers.

The majority of messages, over 80%, contain promotions, sales and deals.
Bonus: Power Words to Use in Your Push Notifications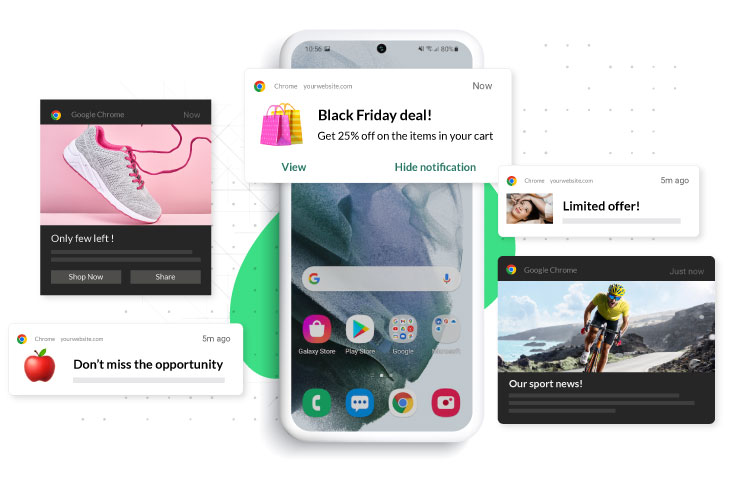 Thinking of implementing push technology on your website? Good for you! Here is a list of power words to use in your messages for added effectiveness. Adding SmartPush code to your HTML header is so easy and fast that we bet you won't forget this list before you start sending your notifications.
Hurry up

Limited offer

Only a few left 

Don't miss the opportunity

Breaking news

Latest update

Read now

Be the first to know

Save

Don't waste money

You're missing 

Don't forget

Alert

Critical

Last minute
Are you ready to start using push notifications for your marketing goals? We're ready to show you our innovative tool with delivered message-based pricing.