Lead Generation: Strategies, Tools, and Techniques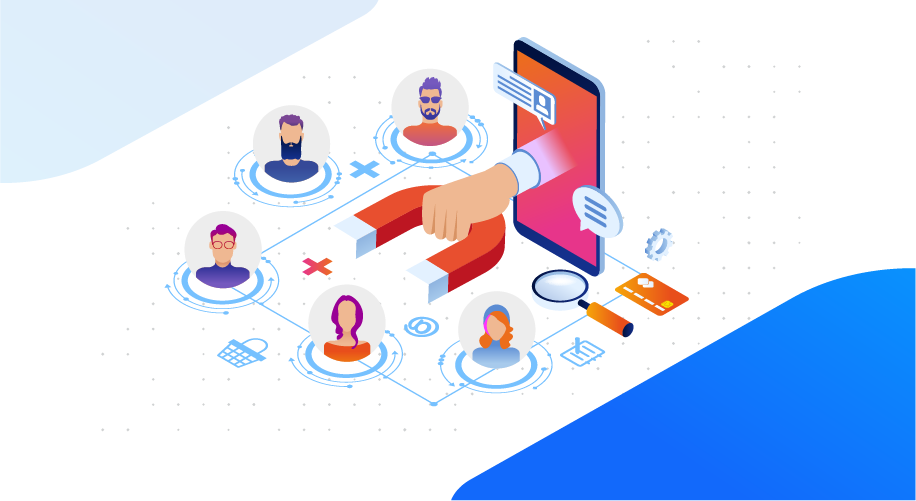 Table of Contents
What is Lead Generation?

Why is Lead Generation Important?

How Does Lead Generation Work?

Types of Lead Generation

Social Media Lead Generation

B2B Lead Generation

What makes B2B lead generation important for sales and marketing teams?

Inbound Lead Generation

1. Content Marketing

2. SEO (Search Engine Optimization)

3. Social Media

4. Email Marketing

Outbound Lead Generation

1. Personalized Cold Emails

2. Cold Calling Still Matters

3. Social Media Outreach

Which Are The 4 Steps of The Lead Generation Process?

1. Lead Awareness

2. Lead Education

3. Lead Sampling

4. Lead Conversion

How Do You Qualify a Lead?

1. Define Your Ideal Lead Profile

2. Collect Data

3. Score the Leads

Lead Generation Strategies and Techniques

Create Compelling Content

Write SEO-friendly Blogs

Make a Winning Landing Page

Nurture Your Prospects with Email Marketing

Use Push Notifications

Lead Generation Trends to Watch in 2022

Social Media

Video Marketing

Account-based Targeting

Interactive Content

Influencer Marketing

Advanced Tips to Create a Lead Generation Campaign

Set Up Your Objective

Define Your Audience

Plan Your Content and Make an Offer

Test Your Campaign

Perform Lead Scoring

Nurture the Leads
Show more
With the rapid spike in information and communication technologies came a new wave of information overload that has changed many aspects of digital marketing. As a result, the marketing landscape has become saturated with thousands of businesses and ads, bringing about a significant increase in competition, where every company should sell a product or service to succeed.
Such massive information abundance has redefined the buyer journey and a number of factors that influence the purchasing decision of a modern customer, making it even more challenging for companies to reach and engage with potential consumers, that is, to generate leads, as we call it in marketing terms.
As lead generation remains a key content marketing goal for 85% of B2B marketers, it's essential for businesses to stay on top of evolving trends. Of course, there is no one-size-fits-all strategy for lead generation, as each company and each industry are different, but there are new and innovative ways for businesses to embrace for getting in front of potential customers. In this guide, let's take deep dive into the main lead generation strategies, tips, and tricks and how you can implement them to skyrocket your business growth.
What is Lead Generation?
Lead generation is about defining your potential customers and creating interest in your product or service with the end goal of getting people to give their first "yes" to your offer. It's a way of connecting with the right type of customers that match your ideal customer profile, draw them into your brand, and take them closer to a purchase.
Why is Lead Generation Important?
Lead generation plays a key role in maintaining steady business growth and continuity. Without the right lead generation strategy in place, it'll be hard to acquire new customers and produce revenue. In the age of information abundance, when customers are overwhelmed with too many choices, you need a really effective and creative lead generation process to build an audience of potential customers, reach them with valuable content and win them on their path to purchase.
How Does Lead Generation Work?
The key components of the lead generation process are the following:
First, people get to know about your brand and what it offers through a marketing channel. That could be reading your blog content, interacting with your website, social media pages, etc.
They click on your call-to-action that prompts them to respond to your content.
By following the CTA, your visitors are redirected to a landing page where they fill out a lead capture form to get an offer.
At the point when a visitor fills out the form in exchange for a free item or service, e.g., a whitepaper, data report, course, they become a lead!
Types of Lead Generation
There are various methods businesses can use to generate leads, including organic SEO, social media posts, inbound marketing, and more. Here let's explore some details of the most popular lead generation types and how you can make the best use of each.
Social Media Lead Generation
Social media is a perfect channel for businesses to reach and engage leads if they implement the right tactics at the right time. With more and more people preferring social media as a channel of communication with brands, it becomes easier to capture your target audience's attention and generate leads through social media.
To get started with attracting leads on social media, you need to identify your target audience and define what constitutes a lead for your brand, depending on your industry. By sharing relevant content and offers that speak to your audience and interacting with them constantly, you can expand your audience, drive engagement, build trust and get them close to a sale.
Some social media lead generation benefits to enjoy are cost-effectiveness, increased brand visibility and scalability, automation, detailed analytics, easiness to measure, and many more.
B2B Lead Generation
B2B lead generation is the process of turning prospective customers into paying ones organically. B2B marketers use various inbound marketing methods, such as blog posts, social media posts, and SEO, to build visibility and increase awareness.
The first step involves finding a potential customer's information, such as name, company, email, and position, and reaching out to them with customized sales pitches or ad campaigns. During the stage of interaction with your prospects, you'll be able to qualify them and figure out how likely they are to make a purchase. Depending on the stage a lead is at, be it research and awareness, consideration, or decision, your marketing and sales team will know what kind of nurturing campaigns to initiate for getting the potential customer to book a call, demo, request a trial or take further action.
What makes B2B lead generation important for sales and marketing teams?
Allows identifying your ideal customers and your total addressable market
Provides up-to-date data that you may use to reach your leads with valuable content
Helps increase conversion rates by making sure you're engaging with those prospects who are most likely to buy
Creates a strong and predictable sales pipeline
Inbound Lead Generation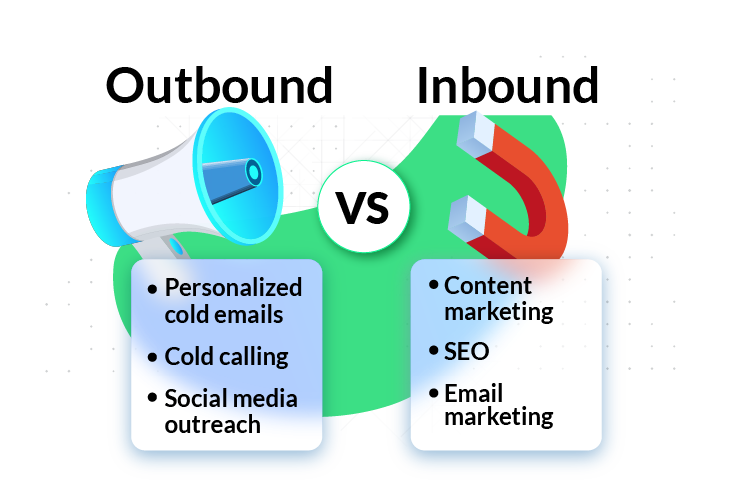 Inbound lead generation is a journey that relies on targeted quality content and practical information to attract potential customers. The ideal offer could be any marketing material your visitors might be looking for to solve their problem, e.g., an article, explainer video, webinar, specific product, and so on. The main goal of the lead generation approach is to drive the potential buyers to your landing pages and turn them into leads and customers who will stick around your brand for the long haul.
To start generating leads for your company, you need to promote it on various marketing channels where your potential customers can find, engage and connect with you. So what are the most suitable channels and actionable techniques to leverage?
1. Content Marketing
Content marketing plays a key role in any lead generation strategy and is used by 88% of marketers in their marketing program. Valuable, compelling, and relevant content in the form of articles, guides, whitepapers, videos, and case studies is an effective lead generation tactic that will help drive quality leads to your website.
2. SEO (Search Engine Optimization)
SEO is another lead generation tool that improves your site's ranking in search results to reach more targeted and prospective customers. SEO is a great way to generate organic leads and increase your brand visibility.
3. Social Media
Considering the number of global social media users, which, according to Statista's report, was 3.78 billion as of 2021, it's worth using social media channels to reach potential customers and pull them into your sales funnel. Pick a few social media platforms where your leads spend the most time and connect with them through regular posting and communication.
4. Email Marketing
Email is also an amazing lead generation channel that aims to nurture the collected leads and move them to take action by clicking on your CTAs inside emails. So make sure to provide useful content that is not simply about promoting your goods but gives your potential customers something valuable.
Outbound Lead Generation
With inbound lead generation marketing, potential customers find you and come to your website ready to make a purchase. That's great! But here, you do not have much control over who your leads are, and there may come a point when your content is not appealing to the right audience anymore. That's where the outbound lead generation approach comes into play.
Outbound lead generation refers to the process of targeting and engaging potential customers who match the brand's customer profile. With this method, you focus on your potential prospects and reach out to them directly through outbound lead generation tactics, including:
1. Personalized Cold Emails
Cold emails are a highly effective lead generation technique, and giving emails a personal touch can bring even better results and higher open rates. In order to succeed with cold emails, make sure your email lies in your subject line, and your content is relevant to your offer.
2. Cold Calling Still Matters
Cold calling is still alive, but it takes quite a lot of efforts to make it right. As a HubSpot research found, 69% of buyers have accepted phone calls from vendors, which means that calls can be a useful lead generation tool. Talking directly with qualified leads is a great way to build rapport with them, understand the pain points, and detail how your solutions will solve them.
3. Social Media Outreach
Social media remains an excellent place for connecting with leads and prospects. LinkedIn, in particular, has proven to be a very powerful lead generation platform that's 277% more effective than Facebook & Twitter. LinkedIn can be a good fit for targeting the best prospects for your business and boosting your lead generation marketing efforts.
Which Are The 4 Steps of The Lead Generation Process?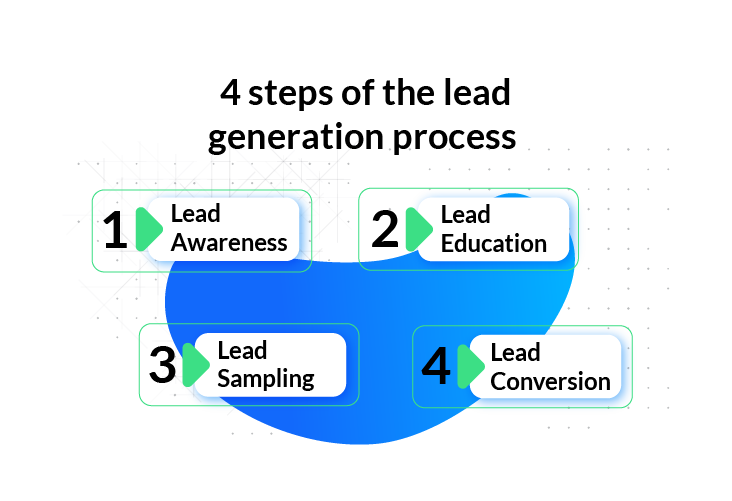 The way how marketers find, engage and convert potential customers into leads has been impacted by the evolution of the Internet, social media, and information overload and, consequently, the changing role of how people make purchasing decisions. In this digital-first world, it becomes harder to stand out from the competition and pique interest among new customers. So in order to succeed, you need to create and execute a well-thought lead generation process which might include the following stages:
1. Lead Awareness
This is the first stage of the buyer's journey where potential customers become aware of your brand, your products, or services. The main goal of this stage is to provide value to your prospects and communicate that you have a solution to their problem or need. Some of the tactics you can apply in this stage are public relations, ads, networking, and different types of content, such as videos, articles, whitepapers, infographics, social media posts, and more.
2. Lead Education
Lead education is the stage when you need to focus your efforts on building trust for your brand by informing your audience about your products, services, and solutions. You can develop a plan of educating people through newsletters, seminars, or events where you have the opportunity to network, share your expertise and knowledge, and craft offers that teach.
3. Lead Sampling
Lead sampling is an essential stage of the lead generation process. One of the best ways to engage potential customers and move them to conversion is to enable them to sample your product, service, and experience through demos, trial offers, assessments, etc. Getting the product directly into your potential customers' hands is a great technique to maintain competition and increase the chance of lead conversions.
4. Lead Conversion
Lead conversion is the ultimate goal of the lead generation marketing strategy. It's where a visitor transitions from the previous stage, moves towards a purchasing decision, and becomes a paying customer. The job here is to show proof and ensure that your leads achieve their desired outcome with your solution.
How Do You Qualify a Lead?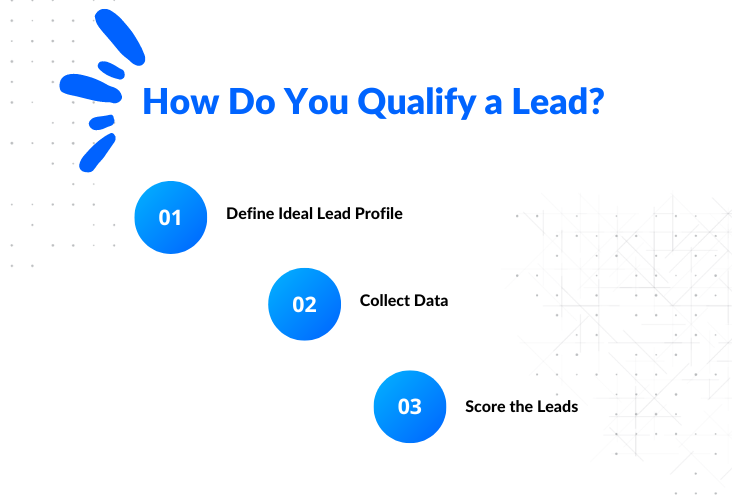 Now that you've captured your leads, it's time to qualify them. Considering the fact that 67% of lost sales fall through as a result of not properly qualifying the potential customers, it becomes evident that estimating leads that might be a good fit for your product or service is essential. Here let's walk through a lead qualification process and how you can best identify the quality leads.
1. Define Your Ideal Lead Profile
At the first stage of the process, you need to sort out the leads that are not likely to convert. To identify the irrelevant leads, you can determine the characteristics specific to your most valuable customers. These attributes can include:
Demographics
Online behavior
Company information
Look at the past sales data, analytics, and findings by your sales team to figure out the patterns that point out the selected attributes. Once you define the criteria, add a numeric value to each one – the higher the value, the more relevant the attribute. The final score will identify which leads are the most valuable for your sales team.
2. Collect Data
After identifying your ideal prospects, start collecting as much data about them as possible for lead scoring. Get to know their priorities, problems, and needs, timelines for achieving their goals, track where they are coming from, and determine if they are a decision-maker. Gathering this kind of information is a great way to understand what your potential customers are looking for, how their needs are related to your product or service, and whether it's worth investing your time in pursuing that lead or not. Once you have all the data at hand, integrate it with a CRM, a marketing automation system, or your own lead scoring system where you will score your leads.
3. Score the Leads
Now that you have the data collected, it's time to score your leads. Set up the rules with the corresponding criteria and define the thresholds that result in sales. When leads are approaching these scores, your sales and marketing teams will be notified so they can know which to follow up and which to nurture. What matters here is that you capture quality leads that will bring value to your business.
Lead Generation Strategies and Techniques
Lead generation is an essential objective for most marketers. To generate high-quality leads and convert them into clients, you need a strategy that best reflects your customer needs and expectations. With so many lead generation strategies out there, it may be overwhelming to know where to go. So here, we've collected some of the most effective lead generation strategies for you to get started.
Create Compelling Content
The first step to attracting new leads is to create compelling content and keywords relevant to your customer profiles. Get to know what your customers are looking for, identify their wants and needs, and think about what kind of articles, case studies, FAQs, and other materials you can land on your website to give them more reasons to stick around.
Optimizing your blog posts for SEO can have a huge payoff on how many potential buyers come to your website and engage with your content in search of a solution to their problem. Use keywords, call-to-actions, and hyperlinks to other pages of your website to get even better visibility on Google and increase your chances of getting more leads from organic search results.
Make a Winning Landing Page
A well-designed and optimized landing page is yet another source of generating leads. Here you need to craft engaging content and visuals and use effective call-to-actions that persuade your prospects to click and go to a landing page to receive a specific offer.
Nurture Your Prospects with Email Marketing
Despite all of the hype surrounding social media and new communication methods, email is still the most effective lead generation channel for 42% of companies, as studies by Circle Research show. Start your email marketing campaign with an offer in exchange for an email address, then create a list of subscribers and nurture them with drip emails to deliver the value of your service offering.
Push notifications are a fresh way to send direct and personal communications to potential buyers. The high level of visibility and better click-through rates than most modern-day marketing tools, coupled with cost-effectiveness and advanced customization options, make push notifications a valuable channel to prompt users to take action and trigger lead generation through personalized and optimized messages.
Lead Generation Trends to Watch in 2022
Lead generation has transformed over the past years with a significant impact on the consumer decision-making process and modes of customer engagement. As a result of these shifts, new lead generation trends have arisen that marketers need to adapt to gain an advantage in the constantly changing marketing landscape. Here are the 5 lead generation trends to implement for driving quality leads to your business.
Social Media
Social media can be a gold mine for generating quality and targeted leads online. With the right social media strategies, relevant content, and optimized ads, businesses can get the ideal prospects on a more personal level with higher chances of converting them into paying customers.
Video Marketing
Video marketing has been a highly effective lead generation source for many years now. With the growing popularity of video marketing, companies look into using more video content, such as informational videos, webinars, live streams, and more, to increase engagement across multiple platforms and get more likes, shares, and leads.
Account-based Targeting
The next trend to consider is account-based marketing which enables you to focus on the prospects that best fit your customer profile and may have a big demand for your goods. With specific targeting and personalized content, you concentrate resources on acquiring high-value customers and keeping them for longer.
Interactive Content
In a highly competitive digital space, you need content that stands out and captures the attention of prospects. Adding interactive elements to your content, such as infographics, YouTube videos, audio, quizzes, surveys, and polls, can result in higher user engagement and more leads.
Influencer Marketing
Influencer marketing trend has been growing and continues to hold strong. Influencers have gained authority and trust in specific niches, so getting them to promote your service or product will definitely increase your reach and help capture more targeted leads.
Advanced Tips to Create a Lead Generation Campaign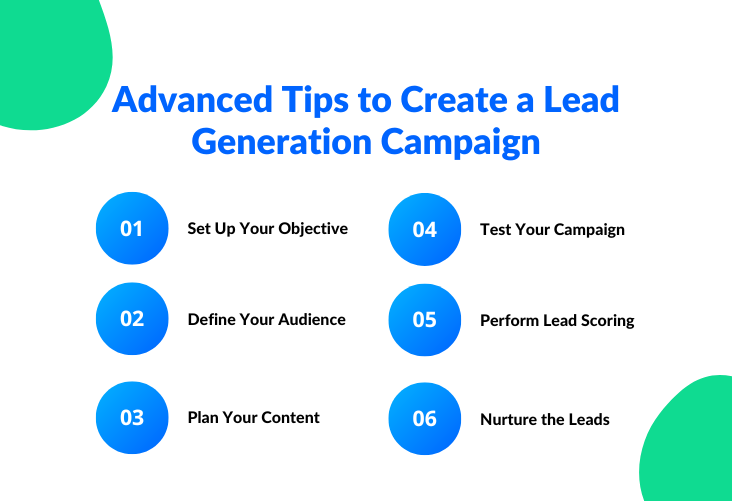 Generating high-quality leads is important for any business growth. When creating a lead generation campaign, here are some key steps to keep in mind.
Set Up Your Objective
Once you establish your campaign objective, it's time to set up smaller benchmarks to help measure your campaign performance. Such metrics might include a specific number of leads, revenue per lead, subscribers, trials, sales, conversion rate, etc.
Define Your Audience
Who are you going to target with your lead generation campaign? First, narrow down this question and figure out who your prospective buyers are. Next, examine the demographics of your current customers and social media followers, interview them to know more about their background, goals, and challenges, and run surveys. Audience research will help tailor your campaign to specific segments for better results.
Plan Your Content and Make an Offer
Now that you've defined your target audience and know what you're going to offer them, it's time to create relevant and engaging content that will convince them to take action. Create a persuasive lead magnet landing page to give something of value to your potential customers and get them to click on your CTAs.
Test Your Campaign
The best way to measure the effectiveness of your lead generation campaign is to track the metrics for each component and analyze how your audience has responded to your campaign. You can always test and see how your campaign works along the way and optimize it accordingly. A/B test a few of your campaign components, including email subject lines, headlines, messages, CTAs, and design, to determine which tactics are most effective and what still needs improvement.
Perform Lead Scoring
Lead scoring is an effective method that helps identify which leads are most valuable for your business and how likely they are to make a purchase. Based on lead scoring values, marketing and sales teams know when and how to approach a prospect considering factors such as how closely they match your buyer persona, how they interacted with your content, and where they stand in your sales funnel.
Nurture the Leads
Lead nurturing is how you guide your prospects and engage with them by providing relevant and personalized information, support, and offers through the buyer journey. The goal is to build meaningful relationships with your leads, keep them engaged and nurture them toward conversion.
To sum up, we've also prepared a bonus checklist for you at the end that gives you some useful lead generation tips to kickstart your campaign. Want to know more? Get your lead generation checklist here.