The Best Ways to Master Push Notifications for Retail Industry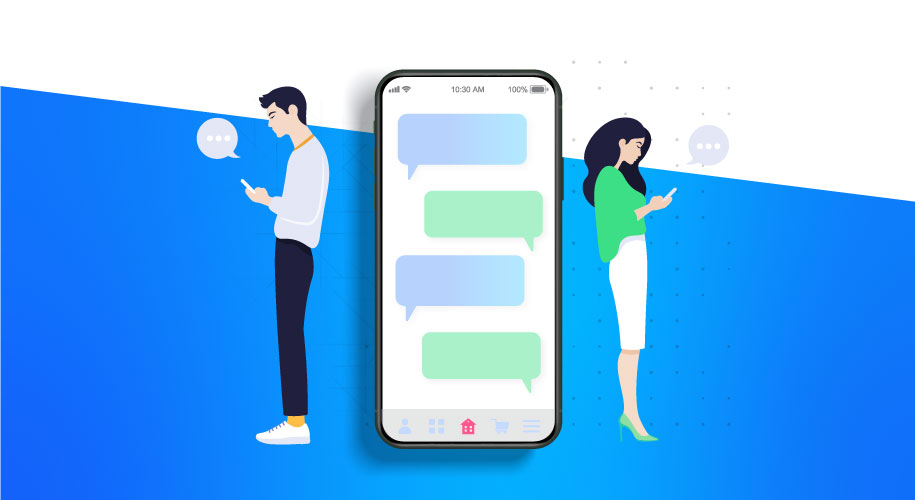 Table of Contents
Benefits of Push Notifications For Retail Businesses

Enable Real-Time Notifications

Ensure Brand Recognition and Consistency

Resist Ad-Blockers

Drive Traffic and Improve ROI

Top Retail Industries Utilizing Web Push Notifications

Ecommerce stores

Travel & Hospitality Sector

Healthcare Services

Fashion Industry

6 Use Cases of Push Notifications for the Retail Industry

Welcome Message

Transactional Texts

Sales and Offers Announcements

Shopping Cart Abandonment Reminders

Upselling and Cross Selling Notifications

Location-Based Push Notifications

Getting Started With Push Notifications for Your Retail Business

Push Notifications for Shopify Stores

Push Notifications for WooCommerce Stores

Final Thoughts
Show more
The retail industry is experiencing significant growth each year, supported by the rapid development of digital technologies. It is expected that online retail will account for $6.5 trillion in sales, which is around 22% of all sales. This growth was in part the result of the Covid-19 pandemic, forcing brands and shoppers around the world to change their business and shopping patterns, switching online. As eCommerce sales continue to grow, online retail becomes one of the most important sectors in the world.
As a result of this shift, the competition in the retail industry grew significantly. This increased competition brought a need for innovative marketing channels that would offer new possibilities for brands. While traditional marketing channels such as social media and email are still essential tools in the arsenal of any marketer, they are no longer enough to catch and retain users' attention.
One such solution that gained popularity among retail marketers is push notifications. Short, quick, and engaging, they are an all-in-one tool offering a personalized and interactive experience.
As push notifications become more and more widely used, for any modern-day eCommerce company it becomes crucial to know what push notifications are, what are their benefits, and how they can be used for the best results. And this is what this article is about. So without further ado, let's jump into it.
Benefits of Push Notifications For Retail Businesses
The main reason retail push notifications achieved wide usage among leading brands is, of course, their effectiveness. Because you can customize the notifications and choose the time of the delivery, push notifications convey your message without being too pushy. However, this is far from being the only benefit of push notifications. Below are some of the most important benefits of push notifications for the retail industry and how they can help your online business grow.
Enable Real-Time Notifications
One of the most exciting and powerful features of web push notifications for retail is that they allow sending out real-time messages. Your subscribers get push notifications when they are using the browser, so there is no risk of the notifications being sent out when the user is not online. There are no time delays between you sending the notification and the subscribers receiving it: if your customer is browsing (not necessarily your website,) they'll get your push notification instantly.
Ensure Brand Recognition and Consistency
Next in our list of web push notifications benefits for retail is improving brand recognition and consistency. By creating notifications in line with the values, visual style, and voice of your brand, you send important personalized updates about what you've been up to. This recurring interaction with your brand creates a clearer understanding of what your brand is all about and what it stands for.
Resist Ad-Blockers
This one is an advantage that cannot be ignored! 42.7% of Internet users use ad-blockers, making them a nightmare for marketers. The good news is that push notifications are resistant to ad-blockers, and your message is sure to reach the subscriber. As an additional bonus, there are also no spam filters for push notifications, improving the reach even more.
Drive Traffic and Improve ROI
Lastly, the biggest benefit of retail push notifications is their effectiveness in boosting sales and improving the profitability of your retail business. Here again, push notifications are doing a great job, as they help brands increase website traffic by 25% daily, improve CTR by 30%, and generate an astonishing ROI of 2200%.
Top Retail Industries Utilizing Web Push Notifications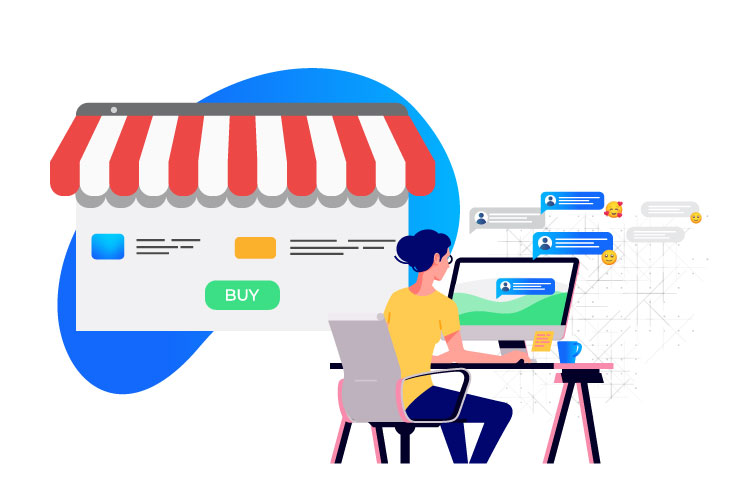 Push notifications are an effective tool for any industry or branch of retail. However, there are several retail industries where this channel is especially effective. We take a look at four of those industries that can use push notifications to their advantage.
Ecommerce stores
Push notifications are a diamond mine for eCommerce stores. Through interactive and personalized push campaigns, eCommerce store owners can share product updates and new arrivals, provide discounts, offer deals, or remind about abandoned carts, to name a few options. With a few clicks, you can reach thousands of customers with messages specifically tailored to their needs.
Travel & Hospitality Sector
In the travel and hospitality industry, real-time communication is a must. Whether your company sells tickets or provides booking services, providing them with timely updates as they are planning their trip is crucial. The process of planning the travel is a long one, and if, as a travel company, you don't keep in ongoing touch with your customers during the process, you risk losing them. That being said, web push notifications can be a remedy to this, providing you with a real-time, quick, and interactive medium through which you can send out a variety of marketing messages, such as travel deals, booking confirmations, and itinerary updates.
Healthcare Services
Another sector that can benefit from push notifications is healthcare. Companies providing healthcare and wellness services, much like the hospitality sector, need to be in constant touch with the patients to ensure timely communication. Reminders, prescription updates, patient feedback forms, and ad-hoc messages are some of the ways in which push notifications can improve the efficiency of your healthcare company, resulting in better customer satisfaction, decreased costs, and improved security.
Fashion Industry
Fashion retail is the last one on our list of industries that can draw significant benefits from using push notifications. From notifying about new arrivals to letting the customer know that the item they wanted is back in stock or sharing important brand news, you can leverage push notifications in countless ways to develop your fashion brand. You can then use the data you've gathered during your campaigns to provide more personalized offers to your subscribers, increasing chances for sales.
6 Use Cases of Push Notifications for the Retail Industry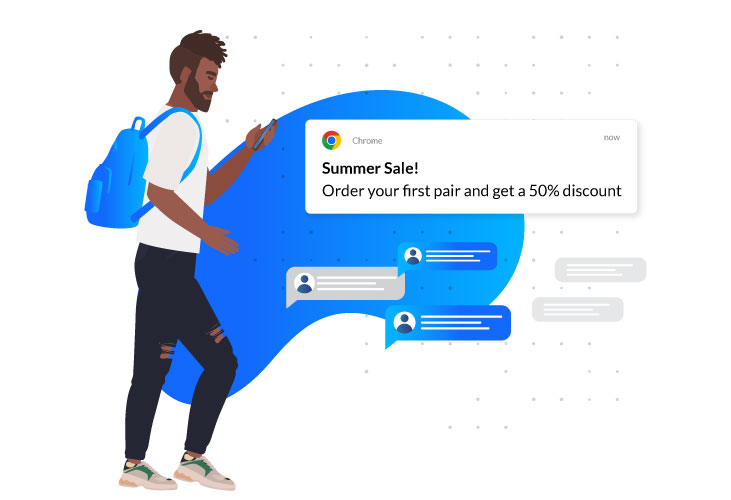 When it comes to push notifications, there is almost no limit to potential use cases, and you can find as many ways to implement them as your imagination allows. To help you get started and inspire you a bit, we've collected 6 of what we believe to be the most effective use cases of push notifications for the retail industry.
Welcome Message
Once your subscribers opt in to receive your push notifications, send them a warm welcome message and thank them for joining your community. It can be a simple welcome text, or you can go a bit further and offer them a small discount for their first order. Your subscribers are sure to appreciate the move, and it'll set the tone for your communication at later stages.
Transactional Texts
Constantly checking email on shipment updates or going to the website to check out the order status can be time-consuming and uncomfortable. Transactional push notifications can be the solution to this, as their main aim is to make the lives of your subscribers easier. Transactional push notifications provide highly personalized information, and they are not a marketing tool per se: the aim is not to sell but to provide a useful service to the customer.
Sales and Offers Announcements
Everybody loves a good deal. Announcing sales through push notifications or sending out personalized coupon codes for a discount for this or that category of products have the potential to draw your subscribers back to your website to purchase that nice sweater they were considering but weren't sure about.
Shopping Cart Abandonment Reminders
With an average rate of 69.57% across industries, cart abandonments are the main pain point of many retail businesses. But there's good news – web push notifications benefits in the retail industry include effective recovery of abandoned carts as well. Through the quick and interactive nature of web push notifications, combined with the personalization tools and data insights they offer, you can reach your customers with reminders about abandoned carts. This will freshen up the memory of the item they considered buying, attracting them back to your website. Offering them free shipping, a gift, or a small discount may also work brilliantly.
Upselling and Cross Selling Notifications
Did you know that retaining an old customer is 25x less costly than getting a new one? And here lies the power of upselling or cross-selling. You can utilize push notifications to send out updated offers or suggest supplement products to the customers who've already made a purchase by analyzing their interests and behavior. For example, if somebody bought ski wear but no gloves, you could then go ahead and notify them about the collection of gloves available in your store.
Location-Based Push Notifications
Location-based push notifications are the last on our list. The benefits of geolocation push notifications for retail are many, as location targeting is an incredibly powerful segmentation tool. Through location-based data, you can send out area-specific notifications or schedule your notifications for different time zones. These notifications don't reach your subscribers using their live address but use attributes like IP to determine the location.
Getting Started With Push Notifications for Your Retail Business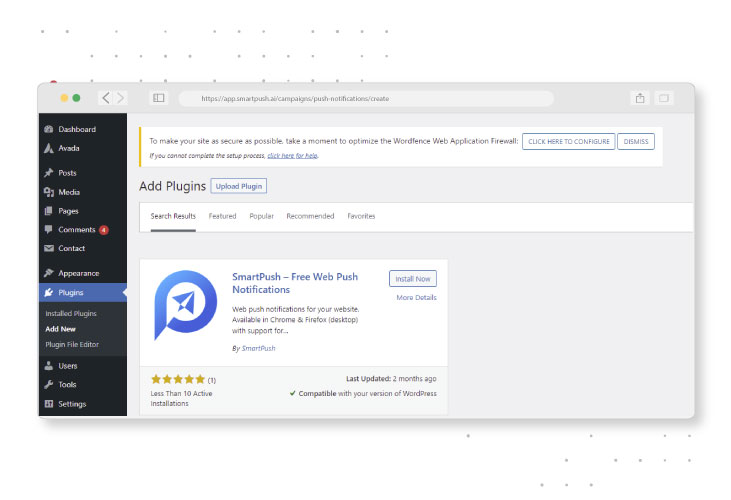 Now that you hopefully have a better idea of how push notifications help drive your business forward, it's time to take a look at how you can start using them as part of your marketing strategy. Below, we take a look at how push notifications work with Shopify and WooCommerce, two of the biggest eCommerce platforms in the world.
Push Notifications for Shopify Stores
One of the most famous names in the eCommerce world, Shopify is a platform that helps retailers build their online store websites code-free. The platform offers its users hundreds of different features, and push notification support is also included in the package.
To enable push notifications in your Shopify store, you'll need to first choose a push notification service provider. There are many push notification services you can turn to, depending on your needs, goals, and finances. If you are looking for a cost-effective version, SmartPush offers an innovative pricing model allowing you to pay only for the delivered messages.
Once you've found the notification service provider and made sure that they have an integration with Shopify, you'll only need to head to your store settings and install them with several clicks from the app section.
Push Notifications for WooCommerce Stores
WooCommerce is another big name in online retail, loved by 3.9 million online retail business owners around the world. With WooCommerce, too, your first step should be identifying the push notification plugin you want to work with and ensuring that they are integrated with WooCommerce. You will then need to go to the plugin section in the setting of your website and search for the name of your push notification service. Then, simply click install, and once the plugin is added, fill in your website information to enable your push notifications.
Final Thoughts
Mastering the art of push notifications may take some time, but the efforts will well pay off. As online retail becomes increasingly competitive, businesses need to have clever tools they can use to be well-equipped to meet all customer needs and wants. By leveraging push notifications, your retail business can improve communication with its clients, offer them personalized services, and understand the customers on a deeper level, bringing many new opportunities for business expansion and development.