Push Notification Best Practices to Follow for Maximum Results in 2022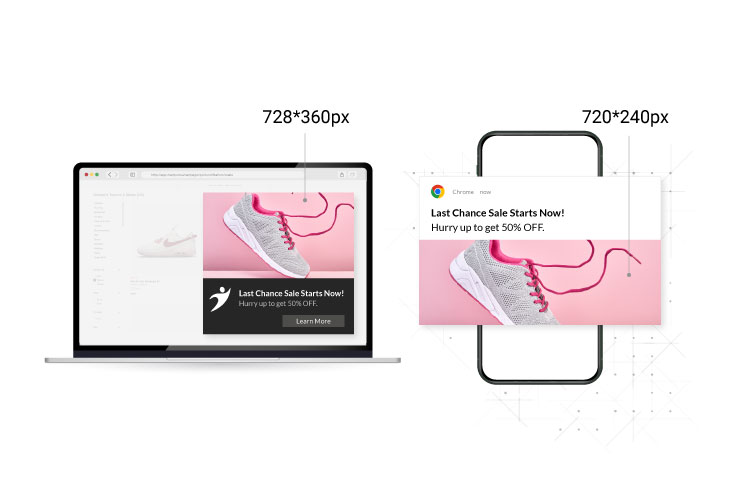 Table of Contents
Time and Frequency Best Practices

Understand The Ideal Push Notification Frequency

Think About When To Send Your Push Notifications

Visual and Creative Best Practices

Utilize Photos and Gifs In Your Push Notifications

Pay Attention to The Image Size

Typography Matters

Incorporate Emojis

Onboarding Campaign Best Practices

Permission Notification

Welcome Notifications

Retargeting Campaign Best Practices

Don't Ignore the Location

Suggest Complementary Purchases

Send Discount Codes

Campaign-Specific Push Notification Best Practices

Personalize Your Messages

Create A Sense of Urgency

Inform of Ongoing Sales

Send Abandoned Cart Reminders

Tempt Them Back to The Cart With Incentives

Attract Them Back With New Content

Ask for Feedback

Wrapping Up
Show more
Push notifications are a powerful communication tool used by businesses and marketers around the world to engage users, drive traffic, promote products, and, ultimately, boost sales. However, the effectiveness of push notifications largely depends on how you use them. Too many notifications or generic texts risk coming across as spammy. And, on the contrary, personalized and carefully-crafted push notifications can be useful and create a positive image of the brand.
Naturally, you want to be the company that sends out only relevant and valuable push notifications. For this, you need to be aware of push notification best practices and industry trends. This knowledge will help you then build stellar push notification campaigns tailored to users' needs and interests.
To help you with this, we've compiled a list of 18 push notification best practices you can put into action in your next notification campaign. So if you are ready, let's get down to business.
Time and Frequency Best Practices
Understand The Ideal Push Notification Frequency
One of the reasons people often don't subscribe to push notifications is the fear that they'll receive too many. And there is a reason for it: an average U.S. smartphone user receives 46 push notifications daily! 40% of the users then unsubscribe to notifications they agreed to after getting 3-6 notifications weekly.
To avoid this, assure them that you won't flood them with notifications. The right number of push notifications will vary from sector to sector, as well as on your need to deliver important product updates. However, a good way to determine the right number of notifications and frequency for your brand is by analyzing engagement and CTR over time. For example, if you notice that CTR starts to decrease after the 5th notification over the week, maybe it's time to cut the numbers down.
Think About When To Send Your Push Notifications
With people living in different time zones and having varying lifestyles, your users probably won't be active at the same time. In this situation, sending out your push notifications to all your subscribers at once is hardly a great strategy. Instead, you want to make sure that you are sending notifications at the best and most convenient times for each of your users as this can significantly impact their behavior.
The simplest way to achieve this is by scheduling your push notifications. You can analyze your subscriber list, segment it, and schedule your push notifications based on the time zone, or even specific times. For example, if you have a sale that will run until midnight of that day, you want to schedule your notifications at 2 PM for every time zone, to avoid sending notifications when people are still sleeping.
Analyzing and understanding the best times to send your push notifications is a powerful data-driven approach you shouldn't miss.
Visual and Creative Best Practices
Utilize Photos and Gifs In Your Push Notifications
Visuals are an important part of any marketing strategy, and there is no arguing with that. Push notifications are not an exception. A well-placed image or a GIF can attract the attention of your customers and get them interested in your message from the first second.
Push notifications with images or other media are called "rich push notifications," and they are reported to have a 25% higher impact. However, this feature is currently limited only to Chrome on Windows and Android devices. Here is how push notifications with images would look across platforms:
Pay Attention to The Image Size
Size and the resolution of your hero image play a pivotal role in how it will be displayed. If too big, the image will be cropped, while a visual too small will appear in a dark frame. To avoid this and ensure that your notifications appear neat and professional, we recommend using these two dimensions:
| | Width | Height |
| --- | --- | --- |
| Windows | 728px | 360px |
| Android | 720px | 240px |
Apart from the sizes, you want to pay attention to the text on the image. Don't clutter the visual with words, but rather try to keep it as simple and short as possible. Other push notification best practices include going with a clear and understandable font and a readable font size for the hero picture, as well as choosing a text color that contrasts with the background.
Another type of visual that can spice up your push notifications is emojis. Adding 1 or 2 relevant emojis into your push notification description can instantly make your message more noticeable. Bright, colorful, and fun, they catch the attention of receivers instantly and give a glimpse of what your message is about.
However, emojis are not displayed the same way on different devices. Usually, the difference is insignificant, but in certain cases, the meaning of the emoji can change. To avoid any misunderstanding, make sure to check how your emoji will appear on the device you are targeting.
Onboarding Campaign Best Practices
Web push notifications are permission-based marketing tools. This means that before you start sending them out, you'll need to get the permission of your customers. At this stage, you can get creative and explain to your users what they'll gain from subscribing to your notifications. Use compelling copy, attractive visuals, or fun GIFs to let them know the purpose of your notifications and that you won't be spamming them with promotional messages.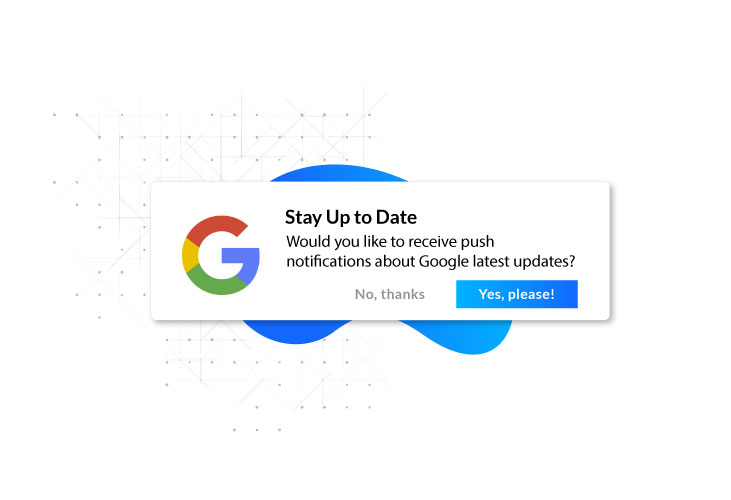 Once they opt-in to receive your messages, this is when you send them a welcome message. A warm welcome is an essential step in making people feel valued and showing them how much you appreciate them joining your subscriber's list.
Make sure to send your welcome notifications during the first 10-30 seconds after they subscribe. This can be a sweet short message or you can welcome them with a discount code or a limited offer. This will offer your customers a taste of what they can expect from you in the future.
Retargeting Campaign Best Practices
Don't Ignore the Location
Location is another critical segmentation criteria that you can use to target and personalize your push notifications. Geolocation data is not only useful for having access to the timezone of your customers, but also comes in handy when you want to send localized information. For example, it can come in handy if you'd like to send your customers to a brick-and-mortar location where you are having a promotion.
Suggest Complementary Purchases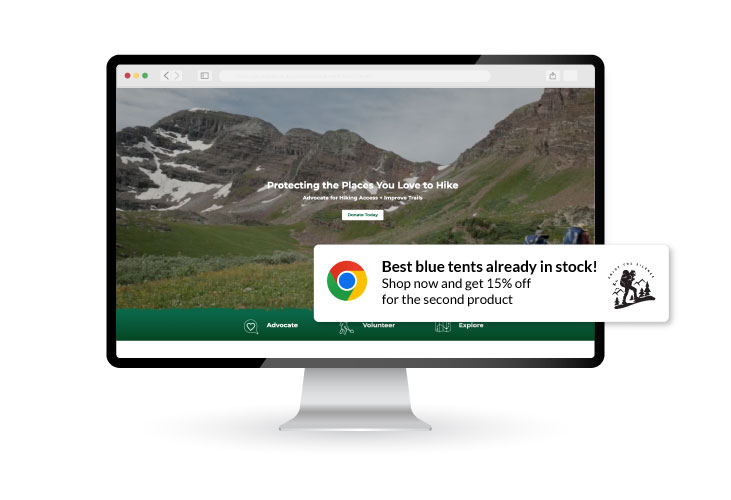 Did you know that add-on products, also known as complementary products, make online retailers 10-30% of their revenue? Using push notifications to invite customers back for an add-on purchase can be a great addition to your marketing toolbox.
However, this is where many marketers go wrong. If the person has purchased hiking boots, targeting them with notifications about another pair of hiking boots a month later will rarely result in a purchase. Instead, sending them information about hiking clothing, a tent, or trekking poles is a better strategy.
This step will involve continuous and deep analysis and personalization to make sure you are suggesting products the customer may actually want. Then, once you understand the essentials people need after purchasing certain products, it will not only drive more sales but also increase customer satisfaction.
You can encourage them to head back to your website by sending them a limited-time discount code. One of the great things about discount codes is that they work both for new and returning customers. Because people like discounts, even a 10% off may sweeten the offer for them and incentivize them to make a purchase they didn't even consider making.
There are different types of promo codes that you can use in your push notifications.
Percentage off
Amount off
Free shipping
A gift
You can use segmenting tools to send out different types of promo codes to specific subscribers, such as offering free shipping for first-time buyers.
Campaign-Specific Push Notification Best Practices
Personalize Your Messages
Many marketers and brands, for the sake of simplicity, are often tempted to go with one-off push notification campaigns. While this may be a good way to start when you are still assembling your subscriber list, or informing about a new product update, to truly engage your subscribers, you need to go deeper.
This is where personalization comes into play. The simplest form of this is by addressing your subscriber by their name. Alternatively, you can segment them based on their interests, previous purchases, or other engagement with your brand. Push notifications offer powerful analytics tools, and you can use them to narrow down and customize your campaigns as much as possible.
Supplementary goods and location targeting mentioned earlier are also forms of personalization, as they make subscribers tailored to their specific needs and conditions.
Create A Sense of Urgency
Messages that create a sense of urgency capture the attention sooner and result in taking an action sooner. You can ignite the user's FOMO (fear of missing out) by letting them know about limited-time offers, sales, or notifying them about products limited in stock. Sending out urgent messages can act as a driving force for the subscribers to make the purchase. However, make sure to not overuse them as they may come out manipulative.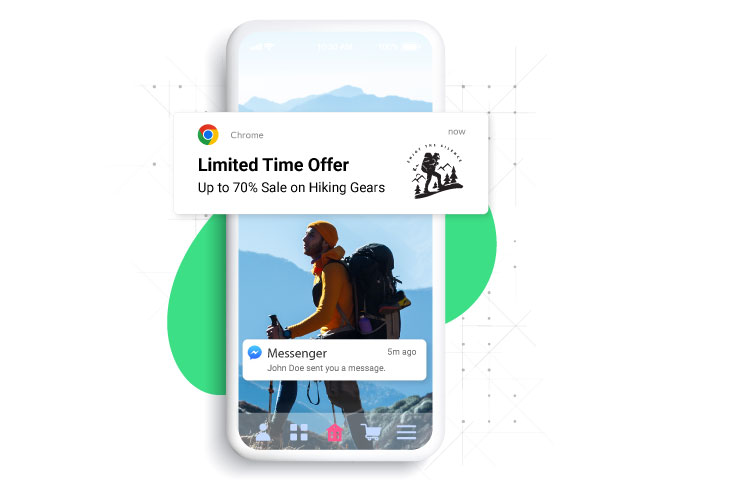 If you are having a sale on specific products, or, let's say, a holiday discount, push notifications are one of the best ways to inform your audience about it. Take your time to craft well-thought-out push notification texts containing all the information about the deal, and also include a link to the discounted products. You can even segment the offers, and attach personalized hero images to your notifications indications sales.
Send Abandoned Cart Reminders
One aspect of eCommerce that many marketers struggle with is abandoned carts. Ranging between 50-80% abandonment rates, they result in a lot of lost revenue.
Push notifications are one way to recoup this lost revenue. A compelling copy that reminds them of items they've left behind has the human element, subtly praises the product, and includes a clear CTA, has the power to drive users back to where they left off and resume the purchase process.
Tempt Them Back to The Cart With Incentives
People love good deals. Whether it's a one-time small discount, free shipping, or even a small gift, including a small incentive into your push notification can offer them a big incentive to come back. You can send the discount notification as a first reminder, or make your offer after sending one or two reminder notifications. You can additionally simplify the process by already applying the discount to their cart or adding a freebie so that they don't have to take any additional steps such as inserting a promo code.
Attract Them Back With New Content
Whether it's a new tool added to your digital product, or a new collection of dresses in your clothing store, adding some new content to your offering can attract users who are looking for something new. Additionally, because people like to be the first to learn about things or try them, including phrases like "new in" or "be the first to try" into your text can be powerful hooks.
Asking for regular feedback from your subscribers is the final step in our list of push notification best practices. This can be as simple as asking them to rate their experience with their website or fill in a short online survey about their experience with you. This is a win-win for both your customers and the brand, as your subscribers will see that their opinion matters, and will also help you improve your services down the road.
Wrapping Up
Push notifications can be a big opportunity to engage or re-engage your desktop and mobile users. The key to the success of push notifications is making them extremely relevant, personalized, and timely. Keep in mind these do's and don'ts when working on your push notification campaigns to ensure that you're providing your customers with the best push experience while simultaneously achieving the highest results for your brand. If all goes well, you should see a spike in your website traffic and sales pretty soon.