50+ Push Notification Templates and Examples for Your Business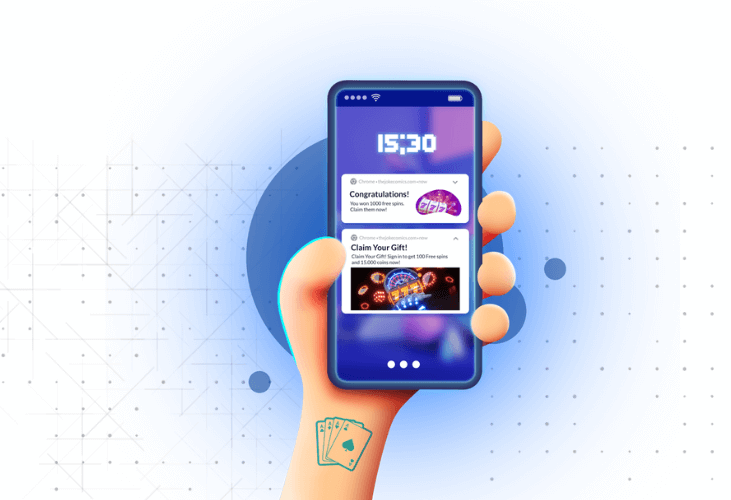 Table of Contents
Push Notification Templates For Different Industries

Ecommerce and Retail Push Notifications

Use Push Notifications To Promote Sales

Recover Abandoned Carts

Re-Engage Users

Make Exclusive Offers

Cross Sell And Upsell

Update On Wishlists

 Send Birthday or Anniversary Offers

 Create a Sense of Urgency

 Update on Order Status

 Contact Them After Delivery

Share Product Tutorials and Educational Content

Confirm Order Cancellation

Traveling and Hospitality Push Notifications

Share New Deals About Flights or Rental

Suggest Destinations For Upcoming Holiday

Send Important Reminders About an Upcoming Trip

Welcome To A New Country

Recommend Landmarks, Restaurants, and Museums to Visit in Different Locations

Offer Packages

Upsell and Cross Sell

Offer Reward Programmes

Gambling and Casino Push Notifications

Encourage Users To Sign In

Notify About Wins And Bonuses

Re-Engage Them With A Small Gift

Announce Ongoing Tournaments

Cryptocurrency and NFT Push Notifications

Send Price Alerts

Keep Them Informed with Transactional Notifications

Educate With Informational Push Notifications

Segment With Geolocated Messages

News and Publishers Push Notifications

Send Real-Time Updates

Share Breaking News in Their Location

Lure Them To Subscribe

Recover Subscription Abandonments

Notify About New Articles

Sport and Entertainment Push Notifications

Alert Users When Tickets To An Event Go Live

Share Last-Minute Event Ticket Deals

Send Purchase Confirmations

Share Game Recaps and Highlights

Update Recipients on Ongoing Tournaments

Make Announcements on What's New

Make Personalized Content Suggestions

Bonus Push Notification Ideas: Holidays, Seasonal Offers

Contests and Giveaways

Organize Chance-Based Giveaways

Kickoff Your Contests and Giveaways

Send Entry Confirmations

Winner Announcements

Follow-up Offer to Participants

Notify About End-of-Season Sales

Congratulate On Holidays

Cheer your subscribers with festive offers

Make Sales Pre-Announcements

Conclusion
Show more
People love receiving notifications. But only if those notifications are interesting, relevant, and valuable. In the digital world of fractured attention and content overabundance, they can capture the attention of the audience, and engage them with your brand. But here's the catch: how do you make sure that your push notifications are catchy and relevant? Even if you have a clear reason behind your campaign, and a great offer, sometimes, finding the right words and that perfect image that'll make your push notification a success is just hard.
For this reason, in this article, we've put together 50+ creative and effective push notification examples for driving engagement, converting more, and selling better. You can use them for inspiration, or use them as templates and adjust them to your needs by playing around with the texts and rich media. Let's take a look at them.
Push Notification Templates For Different Industries
Push notifications are used by many industries in various ways, depending on their needs and audience preference. We've assembled some push notifications templates and examples that we found engaging, and separated them by category, to help you see how they can be best used in different industries.
Ecommerce and Retail Push Notifications
Push notifications are one of the most powerful tools in any eCommerce marketer's arsenal. And many of them were using push notifications in incredibly creative ways to achieve numerous goals. Here are a few examples of good push notifications that can be effective for your eCommerce business.
Use Push Notifications To Promote Sales
Two-thirds of customers have made a purchase they weren't planning on because of a discount. You can use push notifications to spare them from the need to look for those much-loved sales. With push notifications, you can reach them directly in the browser with your big offer that'll make them happy.
Abandoned carts are one of the main pain points of many eCommerce business owners. Luckily, there are ways to alleviate it and push notifications are one of them. Here's a push notification template that does just that. Looks neat, doesn't it?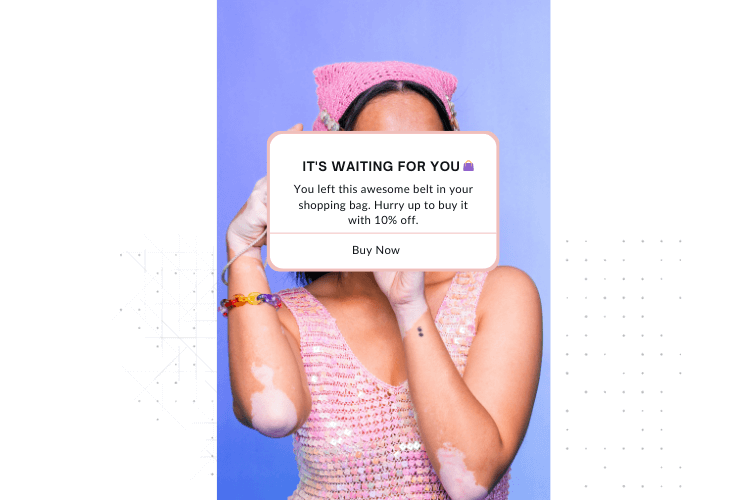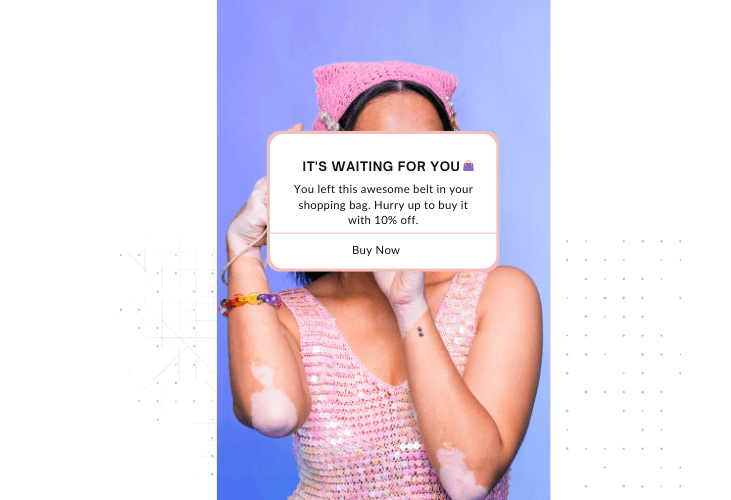 You can also use push notifications as a way to re-engage inactive users. Give them little incentives to motivate them, and bring them back to your store.
People love to feel special, and it's true also in relationships with brands. One way to show your loyal customers how much they matter to your brand is through exclusive offers. This can be in the form of a discount code, reward points, cash back, free shipping offer, you name it; the main point is to make sure it will show appreciation.
The people who've already purchased from you, or have shown some interest, present a unique opportunity for you to cross sell or upsell. Take a look at the push notification example below: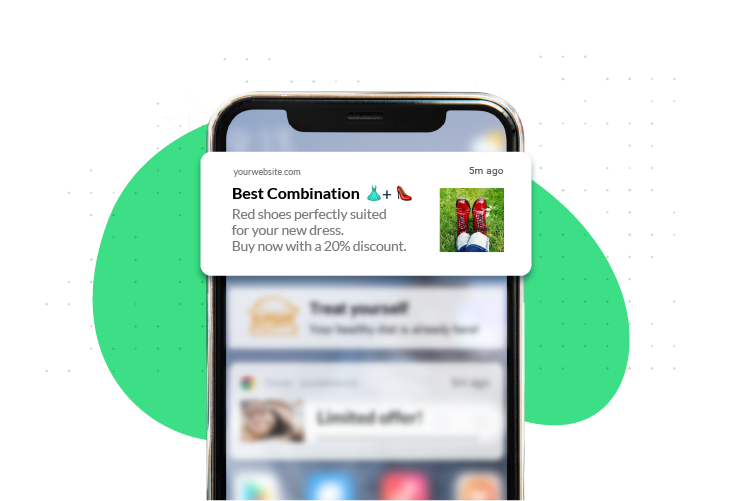 When people come to your website and add certain products to their wishlist, this creates one more point of connection that you can use. You can use push notifications to let them know when one of their liked products is unavailable, back in stock, had size or color options updated, and more. Look at the push notification example by Jabong below: they are using a web push notification to both inform the customer, but also to reassure them that it'll be back.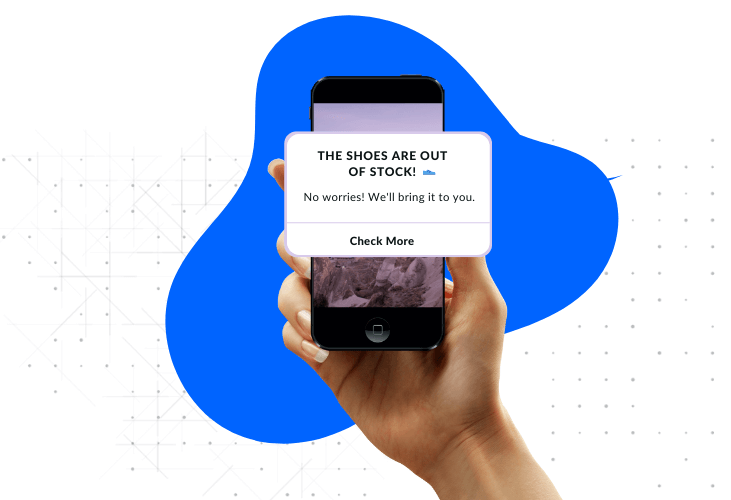 Send Birthday or Anniversary Offers
Coming back to how much people love feeling special, showing your customers small tokens of information on their birthdays or on the anniversaries of joining you can not only brighten their day and potentially bring you a sale, but also create positive associations with your brand. Here's a push notification template that, with a few tweaks, can work great for almost any industry.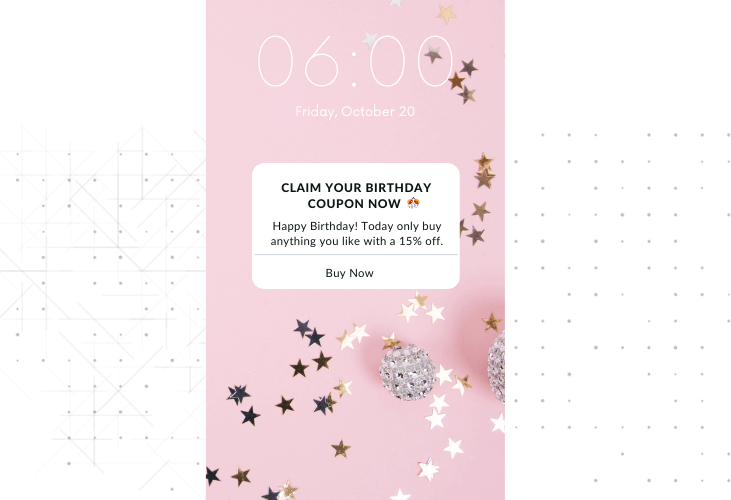 Create a Sense of Urgency
Combining a sense of urgency with scarcity is a marketing strategy that can bring staggering results. You can tap into the fear of missing out (FOMO) by setting a timeframe during which they can make the purchase (as Adidas did in the example below,) or share products low in stock.
After the purchase is made, you'll probably need to be in regular contact to ensure a smooth receiving process. Here too push notifications can help you add value to the users. You can use them to alert customers about the progress of their orders. You can include information like order confirmation, tracking number, or redirect to the webpage where they can access it. Or you can keep it simply, and simply send timely updates, as in the push notification example below.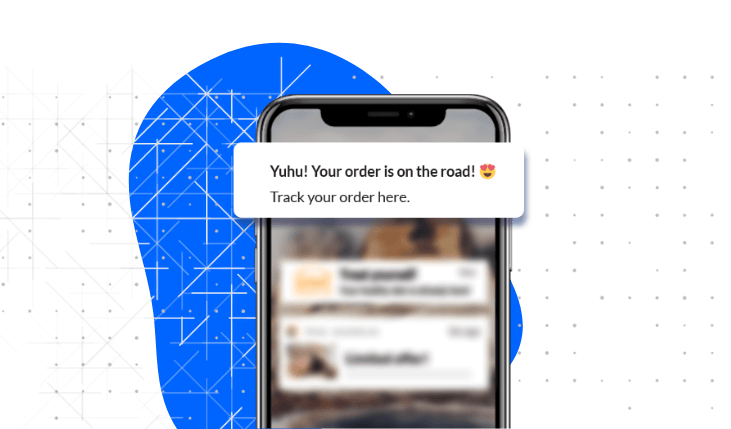 Contact Them After Delivery
After the order was received, make sure to contact them to make sure everything went smoothly. This is also the right time to ask for feedback on the product and the delivery process.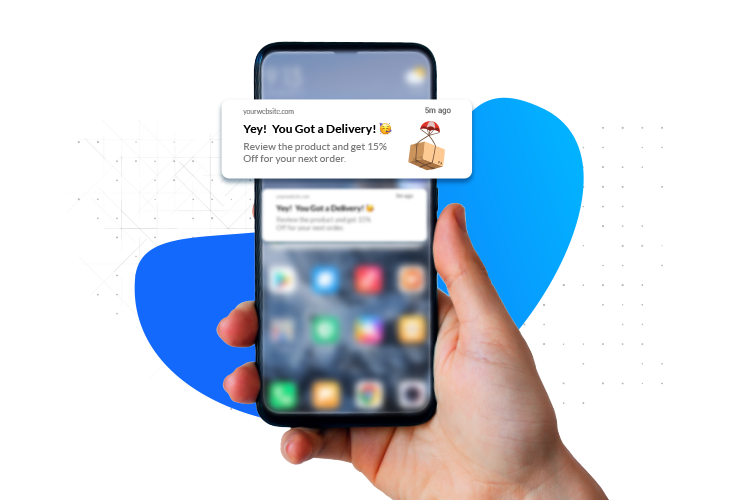 Share Product Tutorials and Educational Content
This can be great both as an educational content or as a follow-up material. Use push notifications as a channel to connect them with the content they can understand and relate to, to enhance their experience with your product.
Confirm Order Cancellation
Sometimes, the orders will get canceled. When this happens, it's important to acknowledge it. Then, it's also important to try and find out the reasons behind the cancellation. Here's an effective example.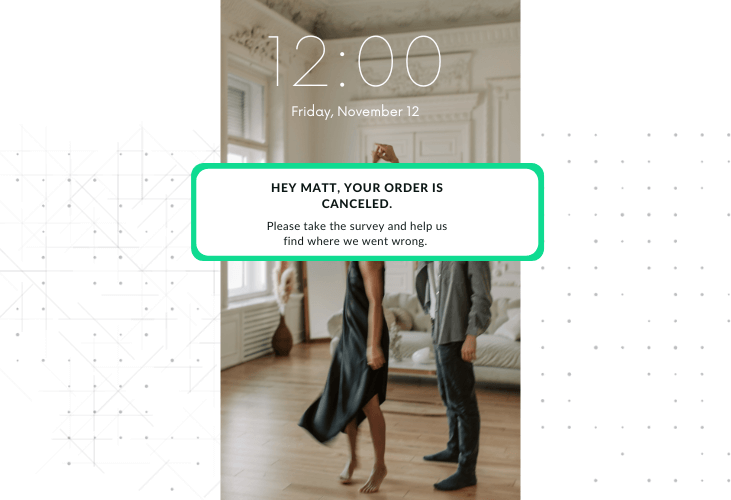 Traveling and Hospitality Push Notifications
Traveling and hospitality is another industry that can greatly benefit from push notifications. Many companies have already realized that. Let's see how they are doing it.
Share New Deals About Flights or Rental
Have a discount on that lovely hotel room in Tulum? Or a huge sale on tickets to Rome? Your subscribers need to know about it! Reach them quickly with a to-the-point notification that introduces the deal, like the push notification example below.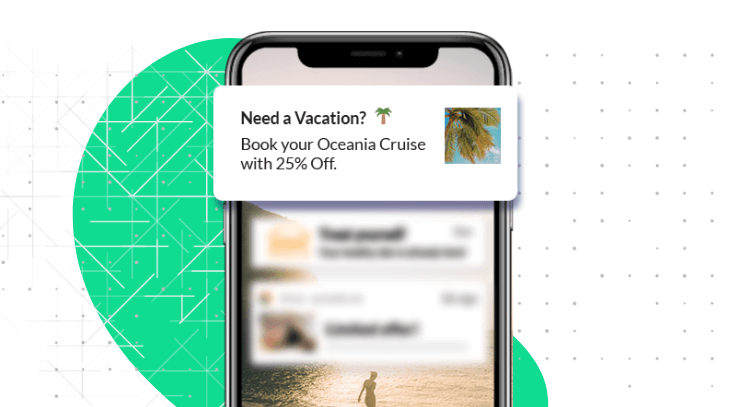 Suggest Destinations For Upcoming Holiday
Sometimes, people aren't so sure where they want to vacation and are open to suggestions. Send out push notifications with suggestions on the best places to holiday at that time, and if there are any deals available. Here's a good and funny example of how you can do it. Whether or not the destination is 4 hours away, treating oneself is always a great idea!
Send Important Reminders About an Upcoming Trip
Make sure your customers are well-prepared for the upcoming trip by sending them timely reminders and useful updates on schedules, boarding gates, and whatnot. Depending on the update, you can include flight information, and hotel address as well.
Send push notifications welcoming your customers to a new location. This can be a simple welcome or something with a fun twist, like the notification below.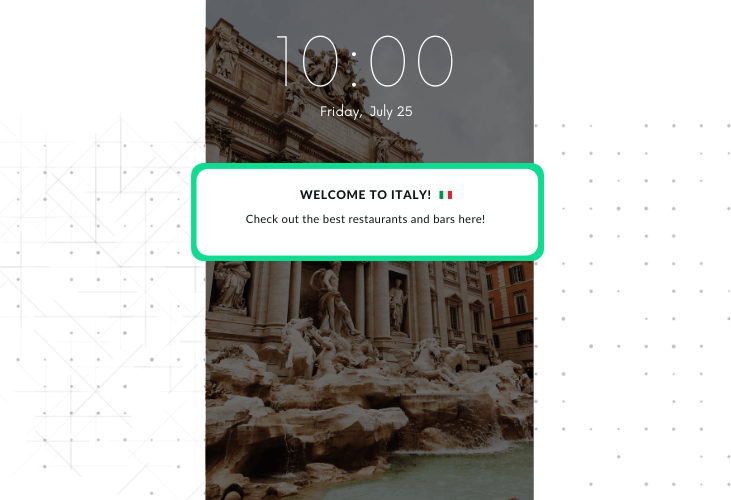 Recommend Landmarks, Restaurants, and Museums to Visit in Different Locations
So, your customers have successfully made it to their destination. What now? You can assist them to have the best possible experience by recommending local landmarks, food, museums, or nightlife spots. From sending a blog link to an article about their holiday spot to sending a series of individual notifications, you'll become part of their trip.
Excite your customers with the great package deals you are offering. You can create different packages including transportation, rentals, tours, and more, and use push notifications to share the information. This is a great option especially during the holiday season when people don't want to fuss over planning out different elements of a trip.
Upselling and cross-selling are common practices in the hospitality market too. Use push notifications to easily contact your customers planning a trip, and offer them an alternative, more elevated experience.
Make your loyal customers feel valued by offering them rewards. These rewards can be in the form of discounts or gifts that users will find attractive and engaging.
Gambling and Casino Push Notifications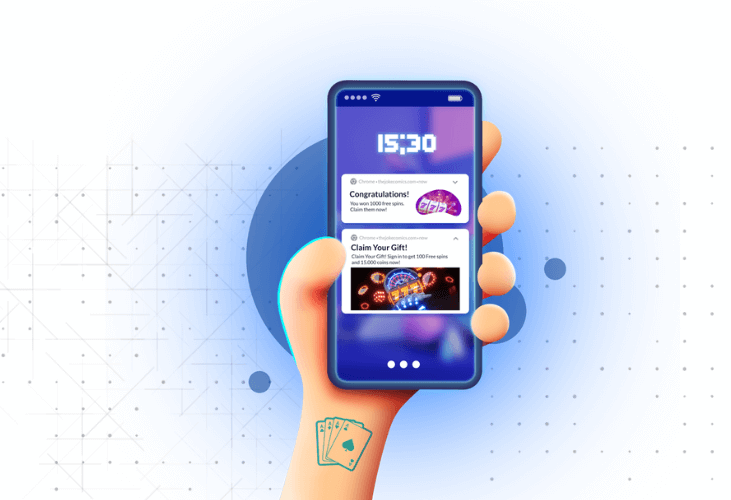 Gambling and casino markets are other niches that have widely used push notifications. Because they need to constantly keep in touch with their users and engage them, the swift nature of push notifications comes in handy. If you are in the gambling business, here are a few templates you can put into action during your next campaign.
Encourage Users To Sign In
Reach out to users and encourage them to sign in to their accounts with a small gift. This will not only promote action but will also make them stay and try their luck.
Notify About Wins And Bonuses
Have your users won something, or do you have a shiny bonus for them? Send a congratulatory push notification and invite them to claim their win on your website.
Re-Engage Them With A Small Gift
Push notifications are great for re-engaging recently inactive customers. Here again, you can reach out to them with a bonus in the form of spins or a budget they can use across your platform, and invite them back to claim it.
Announce Ongoing Tournaments
Have bets or tournaments going on, with people winning big? Let your customers know, and invite them to join as well. Seeing someone win can greatly boost their faith, and encourage them to give the game a try.
Cryptocurrency and NFT Push Notifications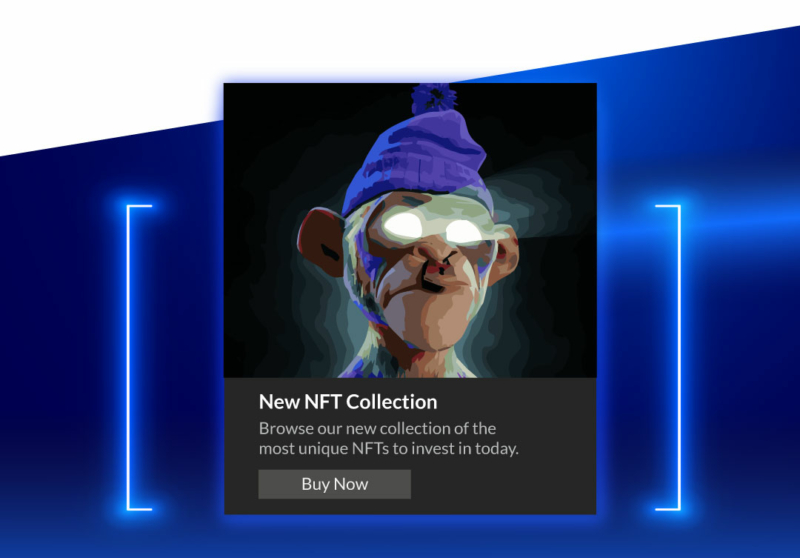 Because of their volatility, cryptocurrency and NFT markets need direct communication channels to stay in touch with their customers for the services to be successful. If you are in the crypto market, here are a few ways you can use push notifications.
In the crypto world, to be able to effectively manage their crypto assets, people need to constantly be on top of market movements. You can use regular price alerts to notify your users about recent price changes to keep them in the know about the price of their assets.
Keep Them Informed with Transactional Notifications
Transactional notifications are another way to keep the users in control of their assets. You can use push notifications during the transaction, notifying them when the purchase has gone through or sharing approximately in how much time the payment will appear in their wallet.
Educate With Informational Push Notifications
Whether you have a crypto trading platform or an NFT marketplace, you may want to guide your users with informative content so they can have the best results. Segment your users and send tailored push notifications based on their experience and interest. Link to your blog, podcast, or other resources to educate and inform them.
Segment With Geolocated Messages
In the case of the crypto and NFT markets, segmenting is not only a marketing tool but a regulation. Different countries have different regulations, and by knowing those, you can then use location-based push notifications.
News and Publishers Push Notifications
In the world of news agencies and publishers, where everything revolves around speed, the quick and on-point nature of push notifications makes them almost a perfect marketing channel for companies. If you are part of this industry, here are a few ways you can use push notifications.
Keep your readers updated on what's going on in the world by sending a notification as soon as news breaks in. Push notifications work particularly great for time-sensitive news or ongoing events. You can go for a simple text notification with a link, or spice things up with a catchy photo.
Share Breaking News in Their Location
People are interested in what's happening in their surroundings, and you can leverage this with geo-targeting. Use location-based push notifications to share with them the latest news and ongoing events to captivate them and bring them back to your website.
Whether it's subscribing to your email updates or opting for paid service, you can use push notifications to attract the recipients to subscribe. Show them what they'll gain from subscribing, and encourage them to join you.
Recover Subscription Abandonments
If you have former subscribers in your push notifications recipient list, you can leverage push notifications to recover them. Similar to an invitation to subscribe, here too you'll need to show just what they are missing on, tapping into the good old FOMO.
Notify About New Articles
Every time you publish a new article, make sure to notify subscribers who've previously expressed interest in that topic. Here as well, segmentation is key to make sure your content stays relevant and gets clicks.
Sport and Entertainment Push Notifications
From sending ticket confirmation to notifying about their favorite band coming to town, push notifications are a powerful communication channel for the sports and entertainment industries as well. Here are a few push notification examples proving it.
Alert Users When Tickets To An Event Go Live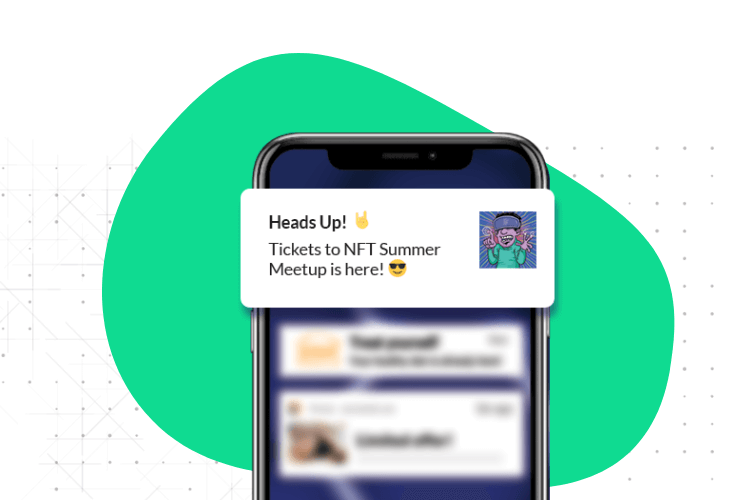 Share Last-Minute Event Ticket Deals
Have an event that day, and some tickets are yet available? You can go with geo-targeted push notifications to reach people in nearby areas, and share the news about your event. Below is an example you can use as a push notification template.
Send Purchase Confirmations
Send out a push notification confirming that the ticket purchase was successful. Depending on whether physical tickets are being sent out, you can also include additional information. If not, a short and sweet text will work.
Share Game Recaps and Highlights
Share recaps and highlights of some of the major sporting events and games with the fans. Segment your subscribers based on their favorite sports, and use push notifications to make sure they always stay on top of what's happening in the world of their preferred game.
Update Recipients on Ongoing Tournaments
Whether it's news from Wimbledon or updates from the Olympic swimming, tournaments are a great time to fire up your push notification campaigns.
Make Announcements on What's New
Have new content up on your website that the users will love? Whether it's a video, a song, or a movie, send personalized push notifications to share the big news.
Make Personalized Content Suggestions
You can never go wrong with recommending personalized content. Send push notifications to users about the content they'll love, based on past actions, time, and location.
Bonus Push Notification Ideas: Holidays, Seasonal Offers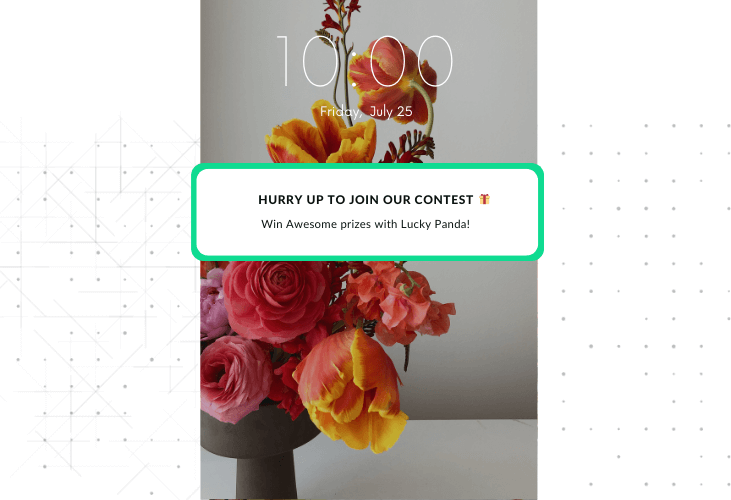 Apart from the industry-specific examples above, there are many other ways push notifications can be used to engage users. Contests, giveaways, and seasonal offers are some of the more effective (and fun) ones.
Contests and Giveaways
Organize Chance-Based Giveaways
Chance-based giveaways are a great way to make users engage and connect with your brand. They also give hope to the recipients that, because it's a matter of chance, they might actually have a shot.
Kickoff Your Contests and Giveaways
The first step of your giveaway is telling the world that it exists. Kickoff your giveaway or contest with a well-crafted kickoff push notification announcing it.
After people join your contest or giveaway, you can send an entry confirmation push notification. This will attest that the registration was successful and they won't have to worry about it.
Then comes the most important day, and the winner is selected. Share the big news with a catchy push notification, either in the text itself or by redirecting to your website for more information.
Follow-up Offer to Participants
Thank them for playing by sharing a small offer after the contest. It can be anything, from a discount to a gift. This will cheer them up and show that you value their time.
Notify About End-of-Season Sales
Push notifications are great for promoting sales, and end-of-season sales are not an exception. Use them to notify your customers that you're having the final season of the sale and that they still have the chance to participate.
Show your subscribers what you think of them and wish them well with small heartwarming wishes during national and international holidays.
Cheer your subscribers with festive offers
From "small" holidays like National Donut Day to "big" ones like Labor day and Christmas, holidays are a great opportunity for every company to grow sales. Use push notifications to share the deals and cheer them up with your offers.
Make Sales Pre-Announcements
Build excitement around your upcoming sales, and give people time to get ready for it, as Abercrombie did as part of their Black Friday sales campaign.
Conclusion
The push notification examples are a great way to assess how push notifications can work for your business. You can use them either for inspiration, or customize them to adjust to your business needs.
While doing this, however, remember that each business is unique. Experiment with the copy, images, and CTAs of your push notifications, and work with different segments to gather data and understand your users better. This will help you engage, retain, and convert your subscribers.